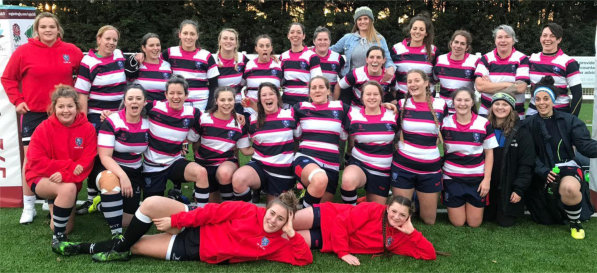 Following a successful and busy last season, their first in National Challenge 1, Havant Ladies rugby club are looking to the future and have their sights set on promotion to Championship 2. Their 4th place finish in NC1 despite being beset with injuries, earned through several impressive victories including against league leaders London Welsh, proves that they are a force to be reckoned with and has motivated them to finish in the top spot this coming season.
Although league matches are over the ladies haven't lost momentum, with some making County appearances for Hampshire, a great attendance at the Annual Havant RFC Touch tournament organised by coach Dean Dryhurst, and two ladies' teams entered into the IBM Volleyball tournament. Pre-season training will be starting soon which will see the ladies down the gym and back out on the pitch for skills training and pre-season friendlies ahead of the league start in September.
Although they are a driven and hard-working team, they are also a great fun bunch of ladies of all ages, backgrounds and experience levels with a vibrant social scene and they would love to add more players to the team. Last season two very successful Inner Warrior events saw many new players joining, some of whom even got to pull on a Havant shirt the very next day! With our dedicated and hard-working coaches we are able to give people with little or no experience of rugby (or any sport at all) the training and support required to thrive and fall in love with the sport. We would also be delighted to recruit people who have played rugby or other sports previously and are looking for new challenges or are new to the area!
Membership with us gives you access to NC1 matches, training on our new 3G pitch as well as multiple grass pitch facilities, physio support, club gym, food after training, the opportunity to be part of the great HRFC community and much more!
Get in touch if you would like to play for us or would like to get involved with the club in any other way – we are actively recruiting a manager to help with our development this season and we are always willing to bolster our coaching team.
By
Lucy King (Ladies Captain)