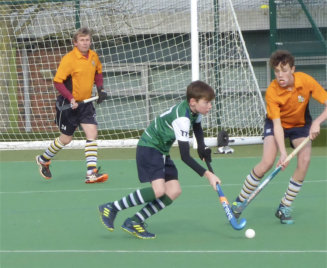 Juniors at Havant Hockey Club will be representing Hampshire at every age group this season.
Several Havant juniors have made it through the area training and assessment sessions to be invited to be part of the Hampshire squad for the 2019 season.
Players aged 12 to 17 who are considered to have reached a high standard of hockey are nominated by the club to attend a series of training sessions. This concludes with a friendly competition festival day. Selections are then made for players to go for county squad assessment. From these assessments the Hampshire County teams are chosen. Hampshire is one of the most competitive hockey counties with large numbers of children competing to be in the squad.
This year has seen an increase in the number of players from Havant be selected, demonstrating a growing strength and depth of talent across all age groups. Playing county hockey is a great opportunity to develop as a player and represent Hampshire in the South Counties Hockey Association County Championships during March, April and May 2020.
Players that impress at county level are then selected for the next level on the England Hockey pathway, known as the performance centre. Three Havant players have been selected this season.
Havant Juniors Selected for Hampshire:
U13 - Tristan Farrer, Jude Richards, Poppy Kilpatrick and Martha Jameson
U14 - Ben Miles, Gabriel Carvalho and Ben Hegan
U15 - Sam Watson, Jonas Waktare, James Healey, Max Whitehorn and
Megan Farrer
U16 - Alex Bolton, Luke Watson, Will Hawkins and Elsa Hares
U17 - Sophie Oliver
Oliver Jameson, Ollie Slingsby and James Hill were selected as Performance Centre players.