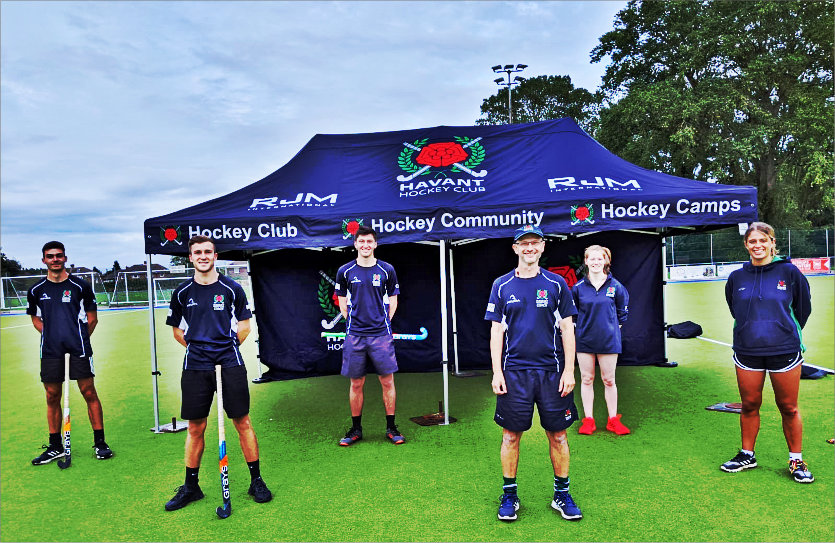 Havant Hockey Club has been at the centre of the Borough for well over 100 years, since it's founding in 1905 .  In the 1970s they were one of the first clubs in the country to establish a Junior Section and in the 1990s extended their coaching support into the community, this programme has been running uninterrupted ever since. The club continues to maintain a strong junior section, currently with more than 200 members. They aim to provide opportunity for all levels and abilities, both boys and girls, and in recent years have regularly developed players who have represented their country in the National Age Group sides.
One of the key Community Programme aims has been to take hockey into local state schools where the teaching of the game is patchy at best. Many schools now have poor and out-dated equipment, many teachers struggle with confidence to teach a game they perhaps find technical. The programme sets out to address this head on, introducing a new generation of children and teachers to safe and fun hockey-based activities.  As a sign of success, in the season 2020-2021 there were 29 borough schools represented in the Club's Minis section alone.
The benefits to the local community are wide ranging and support key elements of the Havant Borough Council 2036 plan and government national aims to improve health across communities by promoting more active and healthier lifestyles. Clearly this programme with young children is developing the benefits of exercise and healthy living through sport in their early years, which can have a knock-on effect throughout their lives. Alongside the well documented benefits of team sports the aim is to bring a sense of belonging and a place where friendships are made, often for life.
They are fortunate to have a number of sponsors who support their desire to provide better opportunities for sport, especially for community and youth development. Improved facilities will be a central element of increasing our offerings in the longer term and the Club is actively working on that at the moment in conjunction with Havant Borough Council.
Other Projects the club is ambitious to pursue include walking / social hockey and Flyerz (disability inclusive hockey), trying to arrange this within the time availability of just one pitch is a challenge however. In addition to the impact and benefits which the Community Programme brings to children in and around the Borough, the club also look to help local worthy causes and those who are less fortunate. Organisations supported recently are the Mayor of Havant's charity (Hannah's Holiday Homes) plus Foodbank PO9 (through both goods given by Club members and also a cash donation from match fees).  Most recently they have also supported The Blurt Foundation in memory of a young club member who died very unexpectedly late in 2020.