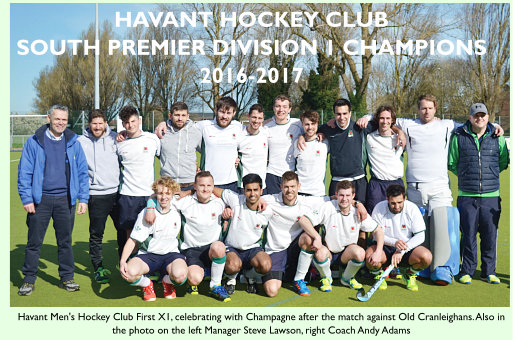 Havant Hockey Club Men, are Champions of the South, after they beat Old Cranleighans, 6-4 at Havant College, to take the South Premier League Division One title, and they did so in some style and with one league game to spare.
Our local Hockey club have been a dominant force in English Hockey for some three decades, wining the National Champions ship in three consecutive seasons in the late 1980s, and also representing Great Britain in Europe. But in 2014 the clubs pride was dented when they were relegated from the National Conference West league, and dumped into The South Premier Division one.
Havant President Chris Pickett, said "it's been a very hard struggle trying to return to top Hockey, as national standards have improved and the league we have been in this season is very competitive" We have come close to promotion finishing in second spot in three consecutive seasons, so to win this year is a relief and reward for some very hard work."
Havant have a long tradition of producing young talent, and some of their 260 Juniors have gone on to qualify and represent England, several of these youngsters have also contributed to this seasons success, but they have been bolstered by Havant bringing some International talent to Havant Hockey Club.
Adam Seccall, a top Australian penalty Corner specialist played for Havant this season finishing as the leagues second highest goalscorer on 29 for the season...Havant also benefited the services of former Great Britain international player Niall Stott, his experience has been invaluable. Havant also imported Thomas Santiago, Argentina's number two goalkeeper, but there has also been a large sprinkling of local Talent including Skipper Dr Raj Laly, a Havant resident.
Next season Havant will entertain top clubs and opposition from across the southern half of England, and Havant Hockey Club Chairman Bill Jones, said " it will be tough returning to National League Hockey, but also very satisfying bringing top teams into the Borough, we will also be playing on Sunday afternoons and it will be nice to bring back the large crowds back to our home ground at Havant College.