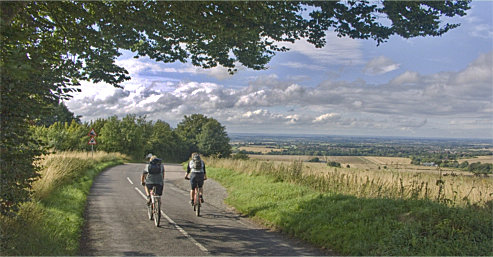 Dawn is a special time of day, and a bike ride at dawn is a special sort of adventure. Every year, around the longest day, Portsmouth and Havant CTC set out from the Spring Centre at 5am on the Bob Kemp Memorial Ride. The ride commemorates Bob Kemp, a former member of the club. Bob loved early morning cycling on quiet roads with a chorus of birdsong. The BKM offers riders the opportunity to do 100 miles in a day, and still be home in time for tea.
This year's ride on 13 June took us to Salisbury. Our second breakfast at 9:30 was in the Kings Head Inn beside the River Avon. A delightful riverside bike path led us to the ancient hill fort and former rotten borough of Old Sarum. We turned East along quiet lanes to lunch at Stockbridge beside the River Test. The river led us South, then East through Kings Somborne and the Farley Mount Country Park to Winchester. A tea stop was taken at the Ship Inn in Owslebury. Returning to Havant involved typical Hampshire ridge riding along Wheely Down and Old Winchester Hill. Riding in a group is a good social event. It provides practical and moral support with any mechanical problems; which was some comfort to one rider unlucky enough to have three punctures during the day! On a fine day in lovely countryside the repairs provided opportunities for a chat and impromptu picnic, and nobody was left behind. At 113 miles the ride was a full value century and a great day out.
You can find out details about the CTC's activities at http://www.portsmouthctc.org.uk .
There are so many different types of bicycles these days, so I asked Havant CTC's Mike Skiffins about the kind of bicycles potential new members would need to join the Club's rides. Mike said 'There is no such thing as a 'proper' bike that you need to take part in our rides. All we expect is that it should be legal and roadworthy for your own safety and the safety of those riding with you. We see a variety of cycles on our rides: bikes with dropped handlebars; bikes with straight bars; 'hybrid' bikes; bikes with suspension; tandems; tricycles; tandem trikes; recumbents; folding bikes; bikes with electric motors. So you see, nobody is excluded because their bike doesn't fit in.'
'Anyone who turns up is welcome to ask for advice and most riders are happy to share their knowledge or point you at someone who can help.'
Hopefully these comments from Mike will encourage any readers thinking of having go on their bicycles.