Havant and Waterlooville FC are delighted to launch our first ever Havant and Waterlooville FC Pro:Direct Academy on the back of our new state of the art 3G pitch set in a fantastic stadium environment.
We're ready to welcome footballs' future young talent through our doors by offering an exceptional range of qualifications that will lay the foundations for 16-18 year olds to maximise their future potential within the sporting arena.
The Draper Tools Community Stadium offers first class facilities including a state of the art 3G pitch, a brand new classroom tailored to effective teaching and a wealth of training equipment creating the perfect environment for students to study, train and play.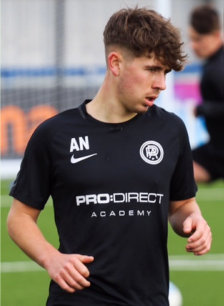 Run by experienced educational leader Tony Stares, along with his fully qualified coaching team including Joe Oastler and Craig Stares, the team are dedicated to developing young students and providing them with a pathway to future success.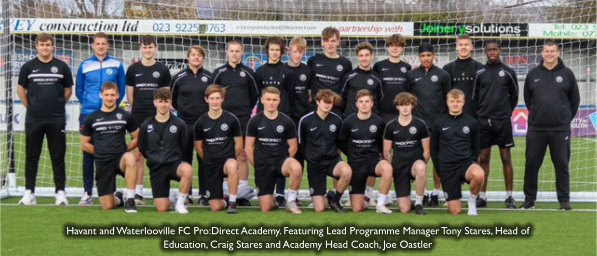 The Academy's Educational Programme is specifically designed for students of 16 to 18 years of age to play, compete and study full time, with a potential pathway into National League Football. Our 1 and 2 year full time Football Education Programmes deliver a sports coaching pathway in:
BETEC Level  2 & Level  3
NVQ  Level 2 Activity Leadership
Level  3 NVQ Diploma in Supporting the Delivery of Physical Education and School Sport
Online BSc in Sports Science and Coaching Football.
Students can explore opportunities to gain access into universities in the UK and USA. Play in the Tactics Premier Youth League and enjoy regular fixtures against other teams.
Havant and Waterlooville FC also offer an Academy Programme in partnership with Havant and South Downs College, where students can enrol on a BETEC Level 3 Extended Diploma. This course is equivalent to three A Levels and attracts UCAS Tariff Points and is recognised by universities as meeting the entry requirements for courses such as BA (Hons) in Sports Coaching and Development and BA (Hons) Sports Management.
During an interview earlier Paul Doswell shared his excitement by saying, " It's brilliant, it's always been something I wanted to help bring to the club, I knew the 3G pitch was a vital part of that, the Board, Derek, Stuart, and Richard Martin have allowed us to realise our dream of having our own Academy".
Joe Oastler, Academy Head Coach said, "It's great, the students get to play in this fantastic stadium, with great facilities, not many kids get that opportunity".
Craig Stares highlighted the Educational Programme by saying, "We deliver on site with a brand new classroom which is fully equipped. We deliver the NCFE in the first year and students' progress to the extended diploma in their second year".
Havant and Waterlooville FC firmly believe that sports and football should be fully inclusive and accessible for all to enjoy, regardless of ability. We welcome applications from all those who have a passion for sports and a desire to learn.
Havant and Waterlooville FC, supported by PRO:Direct will be hosting a number of Academy Open Days over the coming months, the first being held on the 8th April at 12.30pm.
Watch the full interview with Paul Doswell and HWFC Academy Head Coach Joe Oastler here:
https://youtu.be/HGOQ61ydk3M
For those wishing to find out more and register their interest, please email tony.stares@prodirectacademy.com at your earliest convenience.