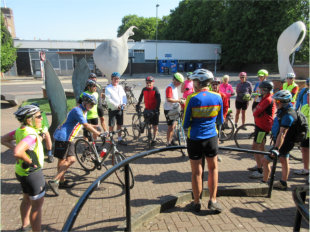 Over the last year Portsmouth CTC has welcomed many new riders and enjoyed several rides each week to destinations all round our base in Havant.
The most popular rides are the Wednesday rides, starting from The Spring in East Street, Havant.
The club has over 170 riders, but of course they do not all ride at the same time, because there is no obligation to turn out every week and riders choose whether to come or not depending an many factors, the weather, family commitments, we don't ask, and it really doesn't matter, its not that sort of club.
We attempt to make cycling a pleasure for our members whether they like to ride really hard, hilly rides, or gentle, shorter trips with a cafe as a destination.
Tim Tayler writes "During our trial rides my wife Ruth and I were immediately impressed by how welcoming everyone was and keen to help you select the appropriate group for your fitness and ability. A smashing group of people."
Our new riders include some who only came once, possibly visiting family in the area, and joined them on a club ride – some younger students or teachers who come home at term ends.
Inevitably there will have been people who only came once and felt that club riding was not for them.
It happens. However, most of the new riders became members, and some have turned out for the rides most weeks. One of the 'Newbies' has clocked up 25 Wednesday rides which is pretty regular.
Cycling is a mixed hobby with a reasonable proportion of ladies in what might once have been regarded as a male activity. At this level of cycling where we are not competing against each other there is always a mixture and some of the rides are led by ladies. It really doesn't make any difference.
In all, last year we had 52 new cyclists join us of which 21 were women, and the popular Wednesday rides included 33 newcomers, of whom over a dozen were women.
As mentioned we can accommodate riders of different levels of age and skill and generally arrange for the Wednesday rides to split into groups depending on their wishes on the day. If we have a lot of riders turn up the designated leader will ask one of the others to lead a sub group, often going a slightly longer or hillier route to the same coffee stop, and there is always an 'easy ride' of about half a dozen who prefer to take some of the flatter routes – often to the same coffee stop as the main group, or garden centre - always a popular destination for the travel weary cyclists. This group is where many new riders choose to discover the delights of group riding, and after a few weeks decide they are ready to join on of the other groups.
Tim concludes "Great people, great company, great challenges, great rides, great fun
Well done the CTC."
By
Mike Skiffins - Portsmouth CT