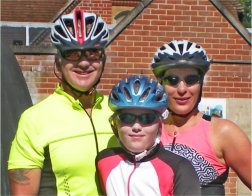 Your local cycle club, Portsmouth CTC has introduced a regular ride on alternate Fridays aimed at new riders, and those who only want to ride a short distance. Although the rides are regular, it is not like a class where you have to turn up every time, but if you enjoy the ride and the company you may well want to.
The rides are organised, and led, by Sarah and Martin Calton who have both worked in the fitness industry for over 15years, where they have helped people from all ages and abilities improve their fitness, health and well-being.
They only took up cycling about four years ago, and in that short space of time found that the benefits from just being outside and socialising with others, made a big difference to their own lifestyle.
They both found a way to slow down and just 'BE'. Although in the fitness industry already, they slowly started to improve their own fitness on the bike, starting from a small journey out on flat roads, to being able to enter Sportives, with an average 40mile course which included hills like Harting.
The logical step about two years ago was to join the CTC, and after this they realised that they could also help others get out and enjoy the rides as much as they did. That was when they approached the CTC about becoming Ride Leaders, and after guidance and training asked about starting a fortnightly beginners ride with a half hour break for refreshment stop which might be a sandwich, or just cake. The rides would be open to any one from any background, each ride would give the member confidence just to get outside and ride a bike, which in turn would not only improve their well-being, but also, over time it would improve their fitness and above all introduce them to a fantastic social group, which for some is a bonus on its own.
The rides are not designed to be too strenuous, and are a lot of fun.
Sarah says 'We were overwhelmed by the uptake of these rides, as well as the fact that we were also getting more ladies out on their bikes which is fantastic to see'. Martin and Sarah want to thank everyone for their support – those who nominated them to become leaders as well as everyone who comes along to each ride. The aim of these Friday rides is to encourage an active community; as long as you have a bike then anyone is welcome.
Its not about the speed, or the bike or even putting on the dreaded Lycra, it's about getting out there on whatever bike you have and just enjoying the company. The fitness element is just an added bonus. (And of course the CAKE).
Sarah adds 'We look forward to seeing more riders join us on our Friday adventures'.
Details of the rides are on the club website https://www.portsmouthctc.org.uk/
By
Mike Skiffins and Sarah Calton