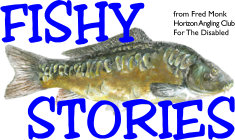 It was a decent turnout for Round two at Three Oaks Fishery. Thanks to everyone who came along on the day. Despite several days of sub-zero temperatures, snow, ice and a biting north-east wind, things improved on the day and 8 members turned out to fish with some mixed fortunes.
Bites and fish were hard to come by on the top lake where Mike Waite, John Forster, Team Parkin (Sue with help from Paul) and Denis Bloodworth managed a few silvers. Denis was fresh from his weekend exploits which produced a splendid nine and a half pound carp in a blizzard session at Havant but no such luck at Denmead!
Derek and brother Alan fared better on the bottom lake choosing to fish the sheltered swims out of the cold wind. Alan caught silvers steadily on pole and maggot including a lovely half pound roach, while Derek started on a mini feeder with double maggot to land skimmers to one pound nine ounces plus a bonus small common carp early in the day before switching to his pole and adding some decent roach.
Thanks to Denny Horn and John Robinson who both looked in to see how we were all doing and to add their moral support.
The day's You've Been Framed moment (we always get one) came when I lost my footing on the slippery, boggy, muddy slope while trying to get back up from the bottom lake to check on the others on the top lake. Very muddy gear straight in the wash!
RESULTS
1st   Derek Wood     5 lbs 5 ozs      12 pts (including 1 bonus pt)
2nd  Alan Wood        2 lbs 10 ozs     6 pts
3rd  Mike Waite        0 lbs 12 ozs     3pts
4th  Denis B             0 lbs 8 ozs       2 pts
      John Forster       0 lbs 3 ozs       1 pt
      Sue Parkin          0 lbs  3 ozs      1 pt
      Colin O'Mara                            1 pt
      Jan Horton                                1 pt
Heaviest fish for one Bonus Point 1 lb 9 ozs skimmer caught by Derek.
Thanks to Denny Horn and John Robinson for coming along to add their support.
Cheers and Tight Lines
Derek Wood - Match Organiser
Horizon Angling Club for the Disabled