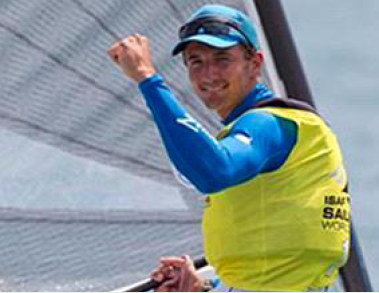 Eight Sailors named as the first athletes on the British Team Sheet for the Rio 2016 Olympics
On the 9 September, the British Olympic Association announced the names of the first athletes to officially join Team GB for the Rio 2016 Olympic Games.
A total of eight athletes have been selected across six of the ten sailing events to be held in Rio de Janeiro, Brazil (5-21 August 2016) against a beautiful backdrop on Guanabara Bay. Between those six sailing athletes selected they have won four Olympic medals and seven World Championship golds.
British sailors have established a record of excellence in Olympic competition since sailing made its debut at the Paris Olympics in 1900. Team GB tops the all-time Olympic sailing medal table with 55 medals – including 26 golds.
Giles Scott's was the first name to appear on the Rio team sheet. The 28-yearold is unbeaten in almost two years and will make his Olympic début in the Finn class that has been dominated by five time gold medallist Sir Ben Ainslie for more than a decade. Scott (pictured below) said on hearing of his selection "I have been trying to get to the Games for a long time. I suppose it's something that always seemed miles out of reach and a bit of a dream. To now be selected to Team GB is a huge honour and to be going is a lifelong ambition. But clearly I want more from it than just to say I went. I now have 11 months to focus in on the one regatta and hopefully that will enable me to be in a better and stronger position in eleven months' time."
London 2012 silver medallists Hannah Mills and Saskia Clark are paired together again in the 470 Women's class and Luke Patience, who also won silver three years ago, will team up with two-time World Champion Elliot Willis in the 470 Men's event. Bryony Shaw, Britain's first female Olympic medal-winning windsurfer with bronze at Beijing 2008, has been selected for the Women's RS:FX windsurfer event, for the third Olympic Games in a row.
2012 Olympian Alison Young returns in the W0men's Laser Radial event, whilst current Laser World Champion Nick Thompson earns his first Olympic appearance to round off the initial sailing selections for Rio.
Stephen Park, Team GB Sailing Team Leader and RYA Olympic Manager said: "The road to Rio 2016 has just got one step closer for these eight athletes. They have displayed fantastic performances during our qualification period so far – most notably Giles Scott who has dominated in his class for the past two years. It's particularly pleasing to see Giles, Nick Thompson and Elliot Willis finally earning their Olympic call-ups after making such strong contributions to the British Sailing Team's medal winning efforts over the years. They and all the other sailors named so far have proven they have what it takes to win medals for the United Kingdom at the highest level. Their selections will allow them good time to focus on preparing for the challenging sailing venue that Rio undoubtedly is."
This leaves selections still to be made for the remaining four classes – 49er Skiff men, 49er FX Skiff women, Nacra 17 Multihull mixed and the RS: X Windsurfer men. Selections for these events must be made by June 2016. It is to be hoped that the selections for these classes are made soon so that they too have enough time to prepare properly for Rio.
The 2016 Paralympics will follow in Rio from 7-18 September. In sailing, racing will be in the 2.4mR doubles class, the Sonar trios and the Skud 18 mixed doubles for people with severe disabilities. No announcements have been made on selections for these events.