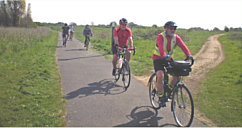 Portsmouth CTC presents its second "Cathedral Challenge" – a series of free bike rides for people new to group riding or who haven't cycled for a while. They start with a short, 'get to know you' ride that includes a free bike check, and progress through longer distances, tackling a series of challenges on the way:
Bronze: Havant to Portsmouth cathedral and back
Silver: Chichester cathedral and back
Gold: Winchester cathedral and back
The event is not religious - we have chosen the cathedrals as destinations at the centre of each city, and the only 'Challenge' is from yourself.
The series starts from the Spring Centre in Havant at 9.30 on 22nd April – the Saturday after Easter – with a ride that will take less than 90 minutes actually on your bike. We'll have a break for coffee and cake (or what you fancy) in the middle. All the rides will use quiet roads, cycle lanes and cycle paths where possible, although we can't avoid traffic altogether. The series continues, alternating between Saturdays and Sundays, through to the final gold challenge ride at the end of July.
Andy Henderson, club secretary says "Everyone is welcome. Last year the group from all round the local area included a good balance of men and women. The youngest participant was 10 and the oldest 84."
All the rides are led by Cycling UK-registered ride leaders. We'll have several leaders available so we can split large numbers into smaller groups (typically six in a group) and to accommodate slower riders. We don't leave anyone behind.
We issue certificates for completing each challenge, so you can collect sponsorships if you want to ride for a good cause,but you don't have to.
There's no charge for joining a ride – all our leaders are volunteers. However, our nationally-negotiated insurance requires you to join Cycling UK before your fourth ride with us.
Under 16's must be accompanied by a responsible adult. Riders aged 17 or 18 must have a parental consent form signed by a parent or guardian.
We suggest you wear a helmet, but that's not compulsory. You don't need to wear special clothing and you can use any bike, provided it is road-worthy.
To read messages from previous Cathedral Challenge riders; get more information; find out what you should bring with you; and register for the challenge, go to the website: PortsmouthCTC.org.uk/cathedral-challenge or search the internet for "Portsmouth cathedral challenge".
We look forward to meeting you.