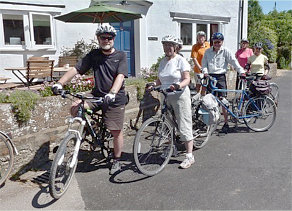 It was five years ago that Portsmouth CTC inaugurated the Easy Rides scheme.
This was aimed at encouraging new cyclists to enjoy the concept of small group cycling in the local countryside, and also to allow older riders to continue when they may have passed their peak.
The first ride was held in 2012, led by Martine and included a new cyclist to the club, Andy Henderson. He was 'hooked' from the start, and became an avid cyclist, joined the committee, used his professional knowledge to update the club website, and became Club Secretary.
The Easy rides have continued on a monthly basis ever since with Martine or Andy leading, but always supported by other club members so that no newcomer is ever left alone at the back of the group.
The fifth anniversary ride on 22nd July was no exception. We gathered at The Spring, in Havant, just as a light shower of rain had stopped, and Andy led the group of eleven riders off to Compton, with Martine bringing up the rear as 'back marker'.
There were a few riders who had not been on group rides often, and one lady for whom this was a 'first'. At Finchdean there is an opportunity to choose between routes and the more experienced 'easy riders' took the longer route, but four of us chose the more direct way, about ten miles,
We got to Compton for a tea break in several groups which helps the counter service, and the first group just caught the beginning of a light shower of rain, but by the time the main group arrived it was raining heavily. We sat inside and watched them!
Shortly after, Martine arrived with her new rider and we all enjoyed the break in the dry, eating cake etc. Christine said the atmosphere was like a party.
The return journey is mainly gently downhill so we took the opportunity to explain the proper use of gears to our new friend as we rode along, and she was able to feel the difference that each movement of the levers made to the ease of riding. As the road comes south, there is one final little hill where she was able to get the benefit from her new skills.
Just before we got back to Havant, the heavens opened again, but by then it was literally 'home and dry'. Sunday dawned bright and sunny!