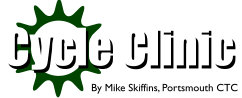 Havant Repair Café has completed six highly successful Dr. Bike sessions in Havant Park with twenty bikes booked in for the final session on 26th September.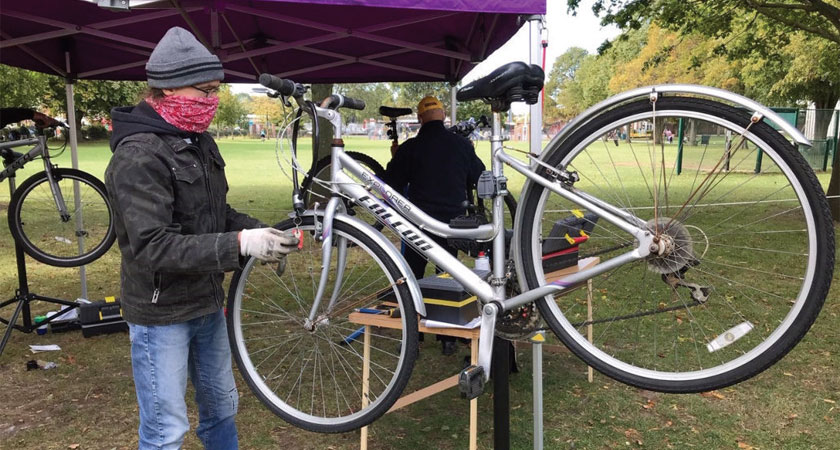 Across the whole six week campaign over eighty bikes were attended to and each bike was treated like a patient ! After asking if there were any known problems, a 'triage' was conducted, checking the bike for all vital signs – in the case of a bike, do the brakes work, are the wheels and tyres in good order, all components tightly fitted etc.? Twelve major areas in all.
Then the volunteers mounted the bike on a stand and attended to any problems discovered.
The volunteers all enjoyed the chance to demonstrate their skills and to solve the various problems presented (messing about with bikes in the park, somebody called it). Although they are not professional mechanics, years of experience on various bikes of their own, or friends or families have given them knowledge they were happy to share.
Occasionally one would turn to a colleagues and ask " Have you ever come across this?" and between them there was usually an answer.
The Bikes were an interesting collection. Some were almost brand new and only requiring minor adjustments, and in one case explaining to the owner a peculiarity of that specific bike. Another bike had been rescued from an odd corner outside and the question asked "Is this worth doing up?".

Apart from the dirt and rust there were so many things that needed fixing, some of which would involve buying replacement parts that the time and money it would have involved made it beyond economic repair. As one volunteer said, "I've seen better bikes down the tip"
Mostly however, the bikes were restored to good running order and the 'patients' returned to their owners for safe cycling into the future, to the delight of the owners.
Responses include:
"Thank you so much for the time and effort spent on my son's bike today. Brilliant service and such lovely people."
"What a fantastic initiative. You serviced my son's bike and it is now running better than when it was new. Jack uses the bike every day for school so it was important to us that it was safe and winter ready."
"Hi, you all do a fabulous job."
Anne Sayer of Havant Repair Café says, "We had a great time with the Dr. Bike sessions – although the last one was a bit chilly, first thing. Well over eighty bikes were seen (although we were not able to fix everyone's)
It is getting a bit too chilly to hold the sessions in Havant Park so we are looking for somewhere that will offer us a space to store a few tools and somewhere we can run a session, say once a month for now. If you can help, please message me or email repairCaféhavant@gmail.com – thank you"
Finally, as the last session was packing up an unusual machine was presented and the volunteers were happy to help by pumping up the tyres of a wheelchair for its occupant.
By
Mike Skiffins, Portsmouth CTC http://www.portsmouthctc.org.uk