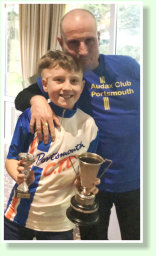 Cycling UK's local branch – Portsmouth CTC – hosted its Annual Prize-giving lunch at Brookfield Hotel on 19th January 2020.
After the lunch had finished it was time for the prizes to be announced and cups presented to the individual winners by club president Joy Forrow.
Over the years we have gathered many cups and to list them all here would not only take a lot of space but may not interest all our readers.
However, there were five separate cups awarded for best attendance at each of our weekly rides (on different days) cups for the greatest distance ridden in various categories etc.
However, the one cup that nobody wants to win is the 'Wally' Trophy. This year it was awarded to the rider who fell into a ditch and had to be rescued. Nothing 'Wallyish' about that, indeed unfortunate, but on the principle that if he nominated himself, he would be disc'wally'fied, he was wrong! So Wilf Forrow was awarded Wally of the year for nominating himself.
Our group is diverse, including male and female, young and old with our oldest rider reaching 90 this year and the 'Little Titch' young rider award going to Sam Whitehead aged 10 - pictured left with his dad.
During the year Sam broke five Hampshire Road Club track records, cycled a Tour of the Isle of Wight, and in the Summer rode from Portsmouth to Hull, a distance of 275 miles in seven days, practically 40 miles a day.
Sam comes from a cycling family, with his father, Paul Whitehead also receiving cups for his Audax rides which exempted him from winning Distance Cycled (the CCP cup) despite having cycled 12541 miles- so the cup went to Phil Beed with 11804 miles. A triumph of record keeping as well as distance cycled.
Congratulations to all the winners and apologies to the many we haven't mentioned by name. The full list will be published in the Club Magazine "The Pedal"
By
Mike Skiffins - Portsmouth CT