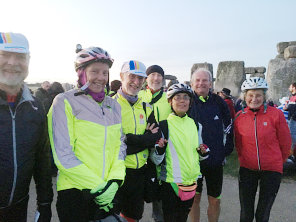 At 4.51 in the morning of 21st June a group of cyclists from our area watched the sunrise through the ancient stones at Stonehenge.
They had cycled through the night to be there, and for some of them not only was this a long ride, of about 50 miles, but it was their first all-night bike ride and carried with it a sense of adventure and challenge.
The ride was organised and led by John Rosbottom, starting from The Spring in Havant at 9.00 in the evening. Eight experienced cyclists who met up with two more at Wickham on the way and a final member at Waltham Chase.
After the sun set, eleven sets of modern bike lights came into their own and provided plenty of illumination to show up any potholes or imperfections in surface of the road.
As this was going to be the equivalent of an all day ride, John had planned a break at Otterbourne where the pub was willing to switch the coffee machine back on at 10.30 pm where the riders produced their own sandwiches - much to the amazement of the regulars.
After the break, the group set off again along quiet local lanes towards Amesbury where they made a detour for another refreshment break. At 2.30 in the morning there are very few roadside places open and John had identified MacDonald's in Solstice Park as the best (and indeed the only) place suitable, so they took a good refreshment break and well earned rest before setting off at quarter past three for Amesbury itself and on to Stonehenge.
The sky lightened and turned pink to herald the actual coming of dawn until the Sun finally rose to a loud cheer from about 9,500 people who had gathered for the annual event marking the moment when the days stop getting longer and begin the shortening that leads, eventually, to Winter.
After the excitement of seeing the moment of sunrise framed by the stones, and the completion of the challenge, some of the group headed straight back to Portsmouth to complete their 100 mile ride as soon as possible, and the rest rode into Salisbury where a few caught a train back and the rest caught an early breakfast instead, and then cycled on through the early morning to Hilliers Garden centre for an eleven o'clock refreshment break and the final ride home.
It's not all about eating and drinking as this might suggest, but it's about a long ride, especially an all-night one, watching the Sunrise in a unique historical site in good company, providing both an adventure and an uplifting experience - which uses a lot of calories as well !
By
Mike Skiffins, Portsmouth CTC