After half a lifetime supporting cyclists in the area, a dozen local cyclists descended on John and Lin Withy at Sivyer Cycles in North Parade, Havant to wish them both well in their forthcoming retirement.
Sivyer Cycles was founded by Bob Sivyer in September 1984 after many years working for Curry's who at that time were cycle retailers.
The original Sivyer Cycle shop was in Fareham, and Bob opened a second shop in Portchester in 1986 when he was joined by his son-in-law, John Withy who had married Lin Sivyer in 1981 while he was a tyre fitter for a bus company in Chichester.
Sometime later the Portchester shop closed, and the business remained in Fareham for a while. About 2001 Bob and John with him moved to Waterlooville where they operated their shop, selling bikes and spares as well as doing cycle servicing and repairs.
Small independent cycle shops have always been a hub for cyclists to gather and chat to each other and the shop owner, about cycling matters, people they know, events coming up and races they have ridden.
John admits that in his youth he was probably as guilty as anyone of spending too much time in his local bike shop so it was, perhaps, natural that he would take the opportunity to run his own bike shop sooner or later.
After six years in Waterlooville, Sivyer Cycles moved to Havant where they have continued to serve local cyclists for the last eleven years.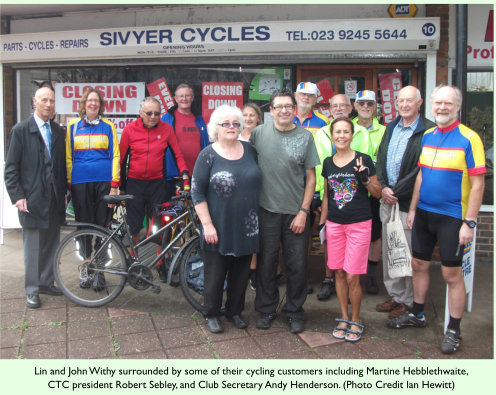 This local business has existed for 34 years , and John has been with it for the last 32 of them.
Cycling has changed a lot in those years.
To a certain extent bikes have become a fashion statement. Some makers have disappeared, merging with others, and the televising of major tours with the British successes has fuelled a bigger public interest.
The bikes have changed, too. Commuter bikes and racing bikes have evolved. Carbon fibre construction and disc brakes have come along.
Cyclists have never been confined to the road but Mountain Biking became a craze with purpose built bikes including hydraulic suspension and fat knobbly tyres.
All these, John has taken in his stride and continued to serve the wider cycling community whether dedicated road riders, families needing help with toddlers bikes, and included maintaining the exercise bikes at the Leisure Centre!
John has always been there with Lin in the shop while he was spending much of his time doing the repairs etc. In fact, John is looking forward to being able to take a holiday of more than one week, a privilege that he has not enjoyed for years.
The shop closed on 31st August and Portsmouth CTC presented both of them with retirement gifts and a cash collection from grateful cyclists and customers.
Our picture shows the cyclists wishing John and Lin a well earned, happy retirement.