During the Winter months, Portsmouth CTC hold regular club meetings, and in February member Phil Beed gave us a presentation on Dealing with Incidents while Cycling.
Cycling is a pretty safe hobby but in the same way that you can trip in the street, things can just "happen".
Ride leaders try to anticipate what might go wrong, from getting lost to something more serious, by checking the route is planned, and the riders are well prepared.
This can include making sure that everyone's bike, equipment and clothing are suitable, and that nobody is looking unwell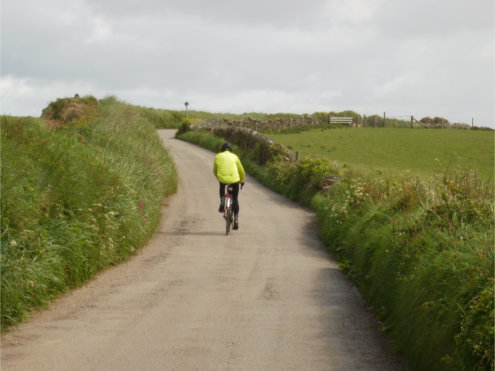 Once on the ride an eye is kept open for any rider that may be looking tired or being in need of a break. A tired rider is more likely to misjudge and fall off the bike, so exhaustion has to be managed, either by taking a short break immediately, or bringing a planned break forward - "Where's the nearest cafe?"
Other than that there are sometimes minor cuts and scrapes, and those of us over a certain age * may suffer joint pains (* actually it a very UNcertain age)
The weather can create problems ranging from snow and ice with cold related injuries to heat stroke in the summer.
Although most of us are not professional medics or trained in first aid we can all do something if there is an incident. Someone needs to take charge and organise the whole group's safety and decide whether to call 999.
There are some basic first aid aspects that can be done, and on the very rare occasions when the incident is serious, and if it is not too bad to call family or a friend instead, or just to accompany the rider to a coffee stop or all the way home.
It is always a good idea to think about sending another rider to alert any other traffic -almost like a human 'warning triangle' that motorists use.
As I said before, serious incidents are rare but just in case, most ride leaders now have a good idea on how to prevent problems in the first place, and what to do if they happen.
That way the whole group can stay safe and enjoy our cycling.
Mike Skiffins
As I wrote this, our organising body Cycling UK has advised all clubs to suspend group cycling (more than one rider) until the Covid-19 emergency has passed
Individual riders are continuing to ride alone or with members of their households, and you may even see the occasional tandem.