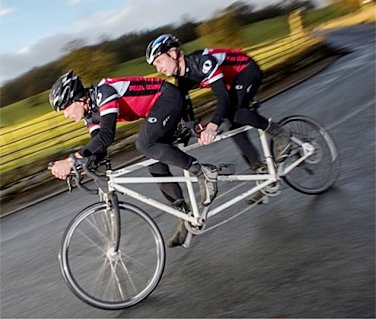 Could you cycle the length of Britain in less than 2 days? Well Dominic Irvine has actually done it, breaking the tandem record that has stood for nearly half a century. And on 12th October, he told Portsmouth CTC how he did it, at our winter Club evening, which replaces Summer evening cycle rides.
Lands End to John O' Groats. known as LeJog or the End to End, was 842 miles using the route Dominic and Charlie Mitchell chose, and they completed it in forty-five hours, eleven minutes to beat the previous tandem record by five hours. Almost ten per cent!
Dom explained that he had made two previous attempts, in 2012 when they were just not fast enough, and in 2014 when the ride was cut short by sickness.
As every stop seemed to end up at least 10 minutes, they only stopped three times for about ten minutes each. They grabbed food bags on the go from the support team standing on the roadside, and eating it on the move. No time for sleep, but they did swap positions frequently to give the front rider some respite from navigating and steering.
Such an achievement took months of planning and training, and was a massive team effort. Not only did they have eight people travelling with them on support, but they enlisted the help of many experts.
To advise on nutrition – it is estimated that each of them burned 22,500 calories in the two days, nutritionist Renee McGregor from University of Bath, and Dom's coach scheduled some high intensity fasted rides. That is, 5.00 am start, ride for two and a half hours before a small breakfast, a small lunch, then nothing to eat until he did it again in the evening. This was just to get his weight down!
On longer rides of over 20 hours they would nibble every half hour – but in that twenty hour period they would have used 10,000 calories.
Apparently fruit cake, cheese sandwiches, and chocolate coated Brazil nuts help the riders along.
They also had a coach who planned all their training, some of it on a static turbo trainer. For ten months they trained hard for up to forty hours a week. To fit this in around a day job they would be up at 5.00 am to train before work and again at 7.00 pm for yet more.
Family life has to be built round this schedule. Usually in bed by 10.00 pm.
Whilst training on the road they built up an enormous camaraderie and also enjoyed some wonderful scenery. They both live in Hampshire but training rides have taken them up the Welsh borders, The Lake District, the Cotswolds and the Southern coastline from Hastings to Lyme Regis.
And their tandem was a hugely expensive custom-build by a leading tandem specialist.
Finally, the weather! Pouring rain and a head wind would have scuppered the attempt and the only way to achieve this is when there is a weather depression over Ireland which draws the wind in the direction they needed to go. So they had a meteorologist on the team, and waited until the best time,
Dom explained that whatever the initial reasons for undertaking this record ride it had been one of the most rewarding things in which he had been involved.
At the end of his presentation, the club agreed that this was one of the most inspirational talks they had ever heard.