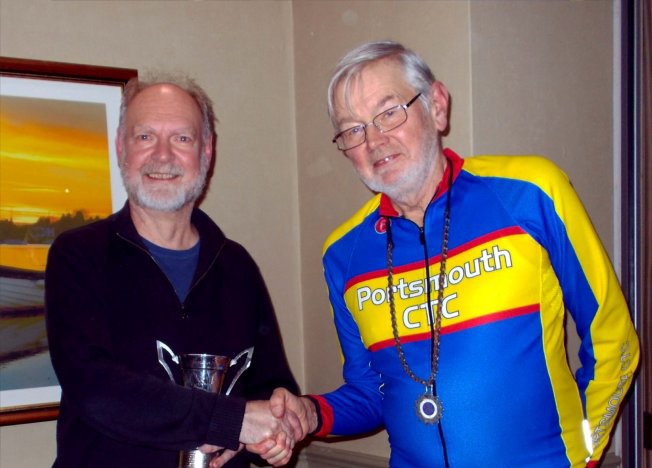 Your local bike club, Portsmouth CTC, celebrated another successful year with its annual awards lunch at Brookfield Hotel on 21st January.
With 19 cups awarded, the full list will be published in the Club Magazine, but some of the highlights include:
The Goodwood Cup – awarded to Paul Whitehead who has cycled over 5,000 miles in Audax events alone, including his London- Edinburgh- London ride, 895 Miles in under 100 hours.
He was joined at the lunch by his wife and their son, Samuel who received the Little Titch trophy for the best young rider in recognition of his 100 Kilometre Gridiron ride, crossing as many cattle grids as possible in the New Forest. As Sam was only 8 years old at the time this was a well earned trophy.
The Clubs newest trophy is the CCP Cup, donated by veteran rider C C P Davis, for the greatest distance cycled during the year, and was awarded to Mick King with 9,536 miles.
It's not all about distance cycled, however. There were awards for Most Enjoyable Ride; Robert Sebley, Best Event Organiser: Barry King-Smith, and the one trophy which nobody wants to win – The Wally Trophy.
A club member, whose name is not published to protect his embarrassment, headed for a waste bin after a lunch stop with his empty sandwich wrappers in one hand. This was a special waste bin designed to be one way so after realising that he has posted his mobile phone from the other hand instead of the wrappers he was not able to recover it.
What a Wally !
The National organisation, Cycling UK, recognises the work of volunteers in many categories culminating in a single National Volunteer of the Year award for their fantastic contribution to Cycling UK's work.
Portsmouth were pleased to be able to nominate Andy Henderson for this award based on his exceptional services as Secretary, which includes creating and maintaining the Club website www.portsmouthctc.org.uk, issuing weekly newsletters, and organising and running the Cathedral Challenge to attract and encourage new members and to introduce them to the delights of cycle touring. This challenge has been run for the last two years and the 2018 rides are currently being arranged.
Although his nomination was unsuccessful, the Club committee considered that he should be awarded the Hewlett Trophy for services to the CTC group.
Our photo shows Andy being presented with the Cup by Robert Sebley, the new President, with his distinctive chain of office.
By
Mike Skiffins, Portsmouth CTC