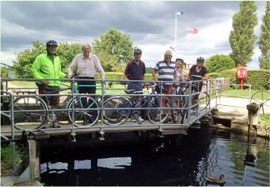 The University of the Third age is a UK movement of people in their Third Age, which is defined, not by a particular age in number of years, but by the period in life following full time employment.
They come together to continue their educational, creative, and social interests in a friendly and informal way, and to explore new interests.
There are several local groups each with its own set of interests, and several of them have cycling groups.
Judith Worley of Havant U3A writes: '
We are a small group never more than nine cyclists on our monthly rides which have taken us on many delightful routes.
The Isle of Wight is a favourite every summer with its friendly cycleways. Round Portsmouth Island, round Hayling and round Langstone Harbour are regular favourites and sometimes we put our bikes on the train and venture further afield from Chichester, Petersfield or Worthing.
Hayling Island U3A cycling group arranges social rides on the first Tuesday of each month at 10-o-clock. Any member can join their rides which are relatively short - two to three hours - . The rides are not fast and, in any case, go at the pace of the slowest rider, using quiet lanes where possible, but cannot avoid roads altogether.
Emsworth U3A rides are up to 10 miles, sometimes less Rides are on the 1st & 3rd Thursday of each month starting from Emsworth Park (car park), Horndean Road, at 09.30 prompt
Emsworth U3A has an agreement with Havant U3A that they can each join each other's groups
Ems Valley U3A 'Cycling for Pleasure' meets on the 3rd Monday of each month, throughout the summer and into the winter months as far as is practical - weather permitting.
Start: 11am. Bridge Street Car Park ; Finish: Early-mid afternoon
Outings vary from local country and coastal routes to more distant destinations via carmounted bike racks and group travel by train
Rowlands Castle U3A social midweek cycle rides meet under the big tree opposite the stores on the 2nd & 4th Thursdays of the month on a 'just turn up' basis.
All RC U3A members or prospective members are welcome. Departure at 9.30 am. The ride on the 2nd Thursday is further or hillier than the one on the 4th Thursday
The style of ride is intended to encourage those who have bikes in the garage and 'always meant to get out' to come for a ride, as well as more seasoned riders looking for a casual mid-week ride.
Longer and off road rides are possible, or a short break away, depending on interest.
Rides avoid main roads wherever possible, and use quiet lanes and tracks. There is a back marker, and we re-group at turnings and junctions. No one is left behind, or forced to ride beyond their capabilities.
All Groups mention that they pause part way round the ride for tea or coffee stops.
Other U3A groups in our area include Portsdown (Cosham), Portsmouth, Waterlooville, and Horndean, none of whom have a cycling group at the moment. However, Beryl Shepherd of Portsdown suggests that if your own U3A has no cycling group you could apply to join a neighbouring group or start a new cycling group in your own U3A.'
By
Mike Skiffins Portsmouth CTC