Back on your Bike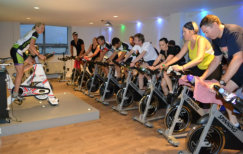 Q Now that Winter is here I'm thinking of putting my bike away and getting my exercise at the Gym.
A Many of the people who will sign up for a Gym membership in January only manage to attend regularly for two or three months.
That is good while it lasts, because the NHS recommend that we should all do between 75 minutes of intense activity and 150 minutes of moderate aerobic exercise a week, or 15 to 30 minutes, five days a week
The Gym has many attractions when the wind is howling outside and snow and ice are crusting the roads, but here in the South, let's face it, there aren't too many days a year when conditions are that severe.
The Gym offers its users a variety of machines to use which gets at different muscles, however, you have to get to the Gym in the first place, and sitting in a car for a quarter of an hour before working up a sweat with a load of others isn't quite the same as riding a bike in the open air.
As to the variety of muscles used, it isn't just confined to legs. If you need to work out your upper body and arm muscles there is always the option of carrying your bike up the stairs of the footbridge over the railway instead of waiting for the level crossing gates to open at Havant Station.
Cycling is a great form of exercise because it enables you to get the level of exercise suggested by the NHS. You can either ride hard over forest paths working your legs and upper body to avoid tree roots etc., or more moderately and safely on cycle paths and roads for a little bit longer.
Thinking about time, you have to make time to go to the gym, but cycling can be part of your daily commute or even shopping trips, so it may end up not really taking any extra time at all, unless you specially want it to.
A different sort of time is our perception of time. When you are sitting on a static bike, looking at the same stretch of wall and trying not to listen to pounding sound effects, half an hour can seem a very long time, even if you are talking to the person next to you, but riding a bike outside, even through familiar local streets gives an ever changing scene, and you notice changes in your locality. Even better, none of us in Havant is very far from the countryside with green spaces, and sometimes woods to ride through, and here a half hour seems to pass much more quickly.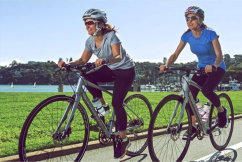 So, now is the time to get back on your bikes and enjoy the open air.
The air currents and changing road surface keep you alert, and you are likely to find that you are subconsciously putting in a bit more effort so getting more 'value' from your half hour session whether you are doing it purely for fitness or to lose weight which is often why people join a gym in January anyway.
By
Mike Skiffins, Portsmouth CTC http://www.portsmouthctc.org.uk