Have a Heart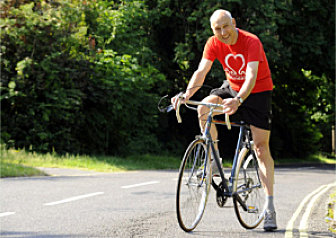 Q Can someone carry on cycling regularly if they have had a heart attack ?
A First, anyone who has heart symptoms should see a doctor to find out if it was a heart attack, and secondly they should follow the doctor's advice.
Malissa Craig, exercise physiologist at Liverpool Heart and Chest hospital says that for most people exercise will benefit your heart.
A friend of mine had a heart attack and was taken to hospital where they fitted a couple of stents to improve the blood flow. The recommendation was to go on a special cardiac fitness course and he is now back on his bike and riding with his friends.
My own story is a bit different.
In November last year I felt unwell and my doctor's surgery sent me to the hospital for investigation. They referred me to the cardiac centre at Southampton General Hospital who did more tests and made an appointment for me to go in for Open Heart Surgery to replace a valve in my heart.
After treatment it took six weeks for me to gradually recover from the surgery but I was under strict instructions not to lift anything heavier than half a kettle of water, and not to do any hoovering, gardening, carry shopping and definitely NO CYCLING.
After six weeks I was feeling very well, but the cardiac unit insisted that I still shouldn't lift or cycle, but recommended the special cardiac rehab course to help my muscles recover from six weeks of doing nothing.
For many years I have supported the British Heart Foundation by doing sponsored rides and it was my aim to get fit enough to repeat that ride later this year.
This has involved doing the full NHS rehab course, and as soon as I was allowed back on my bike, gradually increasing the distance I could cycle.
At first it was just 'round the block' on my local streets, but I was soon able to go further and include a couple of stretches of rising road. This was important as a key target was to be able to ride up Portsdown Hill, so I built in a morning ride from Havant to Fort Nelson where I stopped for a coffee and a bun.
The actual Round the Harbours ride for BHF starts at the Spring in Havant and goes up Portsdown Hill, before descending to Fareham , and through Titchfield to Hillhead. From there it follows the coast to Gosport for the short ferry ride to Portsmouth Harbour Station and all along the seafront at Southsea before turning inland to return to Havant.
A total distance of thirty miles.
It is quite amazing how successful this Major heart surgery is, and how completely people can recover.
Part of this is due to the research funded by the BHF over the years, and I am delighted to be able to do this ride and help support them.
So, the answer to your question is 'yes' provided they get the right attention and follow their advice.
CTC details can be found on http://www.portsmouthctc.org.uk
Mike has set up a donation page on Just Giving, dedicating the ride to the Surgeon and teams at Southampton Hospitals. www.justgiving.com/fundraising/Michael-Skiffins4
By
Mike Skiffins, Portsmouth CTC http://www.portsmouthctc.org.uk