I met a man in a coffee shop. He had arrived on a fabulous modern Tricycle. I was very impressed by what I saw.
I quickly drank my coffee. I could not wait to find out all about the bike/trike outside, parked for all to see. With its full sized road wheels, disc brakes and 21 gears, I asked him what sort of riding he did and would he care to join one of the CTC club's easy rides. He looked at his coffee companion and looking at each other they said 'I will if you will'.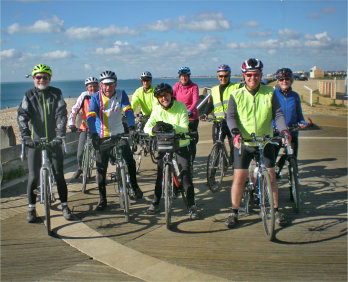 So, at the next ride easy rides I half expected Trikeman' and friend to arrive. The rest of the group were ready to welcome them. Sadly on the day neither arrived. Without them, we set off just after 9.30 am. Andy Henderson led us on a tour of Hayling Island. An easy ride downhill along the Billy Trail took us to the foot of the Island. Most of us followed Andy across the common, but part of that route meant crossing gravel and shingle. To miss the hazardous surface, experienced Martine Hebblethwaite led a small group safely along the road to the Ferry Boat Inn car park. There we joined up again and together returned to the Mad Hatters Tea Room for a welcome cuppa in the sunshine and a chatter with friends!
Refreshed, we rode off again to the Eastern end of the Island, passing the old lifeboat station, along off-road pathways and a route back to the centre of the Island. There Christine Roberts was ready for us with a surprise. Cakes and a hot drink. After enjoying her garden hospitality, we left Chris with the washing up. We made our way back through the quiet roads to Northney, over the bridge and along the Billy Trail into the Spring car park; our leisurely half day ride complete. 'Trikeman' and friend will never know what a good ride they missed – unless of course they read PO9 & PO11. If you do read this 'Trikeman' and friend, please join us for an easy ride.
Winter Cycling.
Winter is here, but it doesn't mean that your bike has to hibernate. We can all continue to cycle during the winter, just the same as walking. So what is different about winter cycling? There are some things we have to think about.
First, the cold. Whenever we go out we dress for the weather, which in the winter means warmer clothes. That is true of cycling; but as we tend to generate body heat it is better to wear several layers that we can adjust as our ride gets going. If not sure whether you have enough clothes on (or too many) go outside before you ride and judge how it feels. Remember that the effort of riding will warm you up. Gloves, of course, are important as hands are stuck out in front holding on to metal handle bars and not doing a lot of exercise.
Second, Rain and snow. We deal with rain in summer, spring and autumn, but winter brings wet leaves on to the road. If you come across a leafy patch take extra care. Steer in a straight line and be gentle with your brakes. The same is true of snow and ice. By themselves they are not reasons to not go out, but treat the conditions with respect. Just as we do when walking. Deep puddles could hide a pothole, so extra care is needed. Narrow tyres have less grip; knobbly mountain bike tyres give more grip.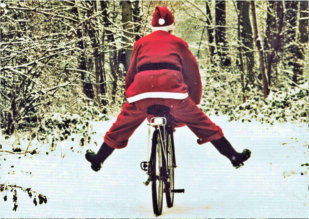 Third, is Daylight. Days are shorter and it can be dark until about 10.00 am. Make yourself visible and safe with lights on your bike. Small, light and very bright rechargeable LED lights won't break the bank. Also think about how visible you are. Wear bright clothing or a fluorescent rain jacket, or a reflective yellow 'Sam Brown' type belt and strap.
If this all sounds off putting just remember those lovely dry sunny days we treasure in winter, between the bouts of horrible stuff.
If you have to ride in bad weather, these tips should help keep you safe and comfortable. If you don't have to ride, then when it is snowing or treacherous, perhaps better to put another log on the fire!
So this winter keep cycling whenever you can! You never know who you might bump into.