Farewell to Mileater Chris 1936 - 2021
Members of Portsmouth CTC are amongst those saddened by the recent death of Chris Davies, a great promoter of cycle touring and enthusiast of all things cycling, and one of the region's most remarkable sporting characters of all time.
In 2010, Chris set an English record when he reached 906,900 miles of cycling, at age 74.  He eventually reached 916,791 miles before he became ill and was forced to stop cycling. He rode over 10,000 miles every year for more than 50 years of his life!
To do that you would need to cycle 27 miles every day over a period of 1820 successive days.
There is a 300,000 Mile Cycling Club which was set up in 1962 and of course, Chris was a member. One of only 153 people ever to be accepted as a member.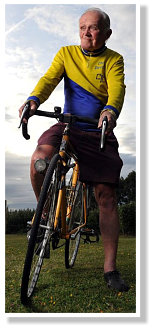 Chris was born in 1936 and in 1954 joined the Portsmouth District Association of the Cyclists' Touring Club, now Cycling UK and did more and more cycling. As a schoolboy he kept a record of all the miles he cycled and continued to do this throughout almost all his life.
Chris loved cycle-touring holidays and visited many countries by bike, including France, Spain, Cyprus, Israel, Argentina, USA and New Zealand.
Chris used to cycle to France every summer to cheer on riders in the Tour de France. At times he would ride on some of the roads closed by the Gendarmes for the Tour. Amid much whistle blowing from them, and cheering from the spectators they were always unsuccessful at stopping him.
In France Chris came across 'Audax' rides; long distance rides which must be completed in a limited time. Chris was one of the first English cyclists to complete the Paris-Brest-Paris audax ride of 750 miles in 90 hours. He then went on to become a founder member of the Audax club in the United Kingdom, AUK.
In 2004 Chris cycled from Havant to Lands End, then to John O'Groats via North Devon before returning to Havant via North Devon – a distance of just under 2000 miles
Chris was always keen to encourage others to cycle and gave useful tips and advice. He was also a cycling campaigner and published a cycling column in the Portsmouth News, turning up at their offices by bike (of course) and never missing a deadline
He was also a competitive cyclist and from his 20s he competed in 25, 50 and 100 mile time trials and then 12 and 24 hour time trials. In the 1960s he achieved a career best distance of 438 miles in 24 hours.