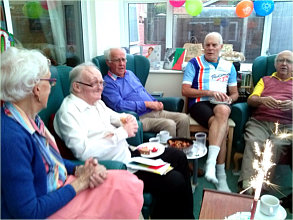 Chris Davies, a well known cyclist in the Havant area,celebrated his 80th birthday on 17th September.
Chris, familiarly known to his cycling friends by his initials – CCP – has kept a detailed record of his cycling journeys over many years and has clocked up over 900,000 miles. His bright yellow bike carries his name and the slogan 'Happy Havant' to confirm to the world his place of birth and the residence of his family for several generations.
The Davies family owned the Chemists opposite St Faith's church in Havant and also the Magnolia House dental practice over which Chris had a flat. It was not unusual on a visit to the dentist to see Chris carrying his bike down the stairs.
Some of Chris's relatives organised a birthday party at Purbeck House, Waterlooville, to celebrate the birthday, and some of Chris's CTC friends; Mike & Ann Edwards, Tricia & Bill Farnham, and Pat Mitchell who visit him there, were able to attend.
CCP's two brothers, Jack and Peter, were both there, and Chris's sister-in-law, Gwynedd, had made a lovely cake, with a bicycle on it and an impressive, large, sparkling candle.
As well as tea and coffee (and the cake,of course) wine flowed. This included some of Chris's favourite, Rose, which some of the cyclists will remember from memorable cycling trips to France with him.