A question for readers with a bicycle or thinking of getting one – "Would you like to get out and ride a little further with a friendly, supportive local cycling group?
With you in mind, the 'Havant branch' of CTC Portsmouth has designed a series of rides aimed to build you up from a very easy ride through to a final challenge of riding from Havant to Winchester
Aimed at new or 'lapsed' adult riders, male or female, the CTC's special Cathedral Challenge Rides offer support, advice, and encouragement to get you ready and to find out what you can do on a bike, enjoy yourself, and discover or rediscover, all the benefits of cycling.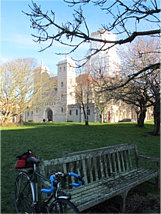 Winchester Cathedral
The first ride - which includes a free bike check - will be just after Easter. It is a short, easy ride to get to know one another and how to ride in the safety of a group. Subsequent rides progress to the 'Bronze Challenge'- Havant to Portsmouth Cathedral and back. A flat route, mainly on cycle ways.
Another month of easy rides will include some low hills and greater distances. Then it's the 'Silver Challenge' – Havant to Chichester Cathedral and back. The challenge concludes with the 'Gold Challenge' - Havant to Winchester Cathedral and back. Each ride will be accompanied by experienced riders and leaders from the club and include a refreshment stop.
More information and a registration form for the Cathedral Challenge are available at Portsmouthctc.org.uk/cathedral-challenge .
Andy Henderson the local CTC event organiser, talking about the Cathedral Challenge and getting people back onto their bicycles said "There are many stories from our members on our web site. They are just a sample of how ordinary people find they can achieve something on a bike they never thought possible. Plus, not only are they feeling fitter and healthier, they're enjoying themselves and making new friends too! Give it go, we're looking forward to meeting you "
Like many others before, you'll be surprised at what you are capable of. You don't need to be a particularly fit – many of the club's newer riders had not ridden a bicycle for many years or ridden any significant distance. There's no upper age limit, some of the riders are either nearing retirement or already retired and just like to cycle socially to meet others and keep up their fitness levels.
Throughout the summer the 'Havant CTC' will also continue with its normal weekly rides and other events to which you are also welcome.
There is no charge initially to join the rides, but after three rides should you wish to continue you would need to join the CTC. Annualmembership starts at £21.50 and should you wish to you could cancelled it at any time.
By:
Mike Skiffins, Cycling Correspondent