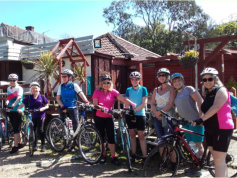 If you have seen small groups of women cycling together in your area they are probably members of Breeze.
HSBC UK Breeze is the UK's biggest programme ever to get more women riding bikes for fun and fitness, formed in conjunction with Sport England (now British Cycling) eight years ago with initial support from Lottery Funding and to date has had over 200,000 women take up places on the rides nationally
Breeze rides are free, for ladies only and organised by trained female volunteers called Breeze Champions.
Since starting in Havant three years ago, there has been a steady increase in participants from two to twelve. Breeze Champion Teresa Goodyer says that places are free but must be booked as numbers are limited to eight in each group, so each group is small enough to be friendly and not cause an obstruction on the roads. If there are more, the Champions will make two smaller groups.
Teresa's group starts from the Havant Leisure Centre and begins with a bike and helmet safety check. Groups ride at a leisurely pace through the countryside to places such as Compton, Woodmancote, and Rowlands Castle and no-one is left behind. They always include a social cafe stop usually half way through the ride.
Rides are planned to cover a manageable distance at a rate which allows time to enjoy the scenery whilst getting a comfortable level of exercise.
Another of the riders said that she doesn't wear 'proper' cycling clothes but you don't have to wear Lycra to enjoy riding a bike in good company.
And the bikes – any bike that the women are comfortable riding is fine, and riding in a group means that there is always someone to help if there is a mechanical issue such as a puncture.
Breeze participants recently attended a Basic Bike Maintenance evening hosted by Evans Cycles in Havant. Ladies gained confidence in puncture repair and general bike care.
Rides also start from Denmead, led by Breeze Champion Terri Bryant whose rides are afternoon rides starting from Kidmore Lane Car Park in Denmead.
Contacts: terribryant@btinternet.com teresa.goodyer@btinternet.com
There is also a facebook page – Breeze Network Solent. Rides are advertised on website www.letsride.co.uk/breeze.r