Heart of Hayling Boxing Academy Coaches get in Training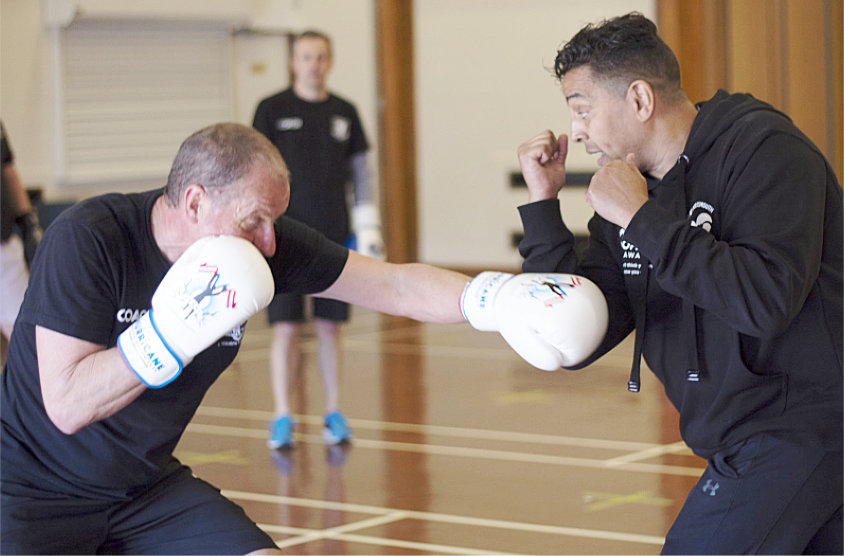 Coaches of the Heart of Hayling Boxing Academy came together for refresher training and updates on change now that the Academy has been accepted by the Charity Commission as a registered charity - number 1193846.
Some of the new charity trustees were present and introduced to the coaches by founders and coaches Mark Coates and Knox White.
Knox White, set out the aims for the coming year with focus on mitigation of the effects of the Lockdown on the young Boxers.      Knox, although disabled with multiple sclerosis, is undertaking a PhD through the University of Portsmouth with the boxing academy at the centre of his studies.
Following on from Knox Sgt Stuart Grover, the area anti social behaviour police officer for  Havant and an ABA coach at Heart of Hayling outlined current anti social behaviour programmes the force have developed and where the boxing academy can provide positive support.
John's new Cafe in the Park, which is a major step in keeping the Hayling Community Community centre open, opened only the day before and served pre-ordered light refreshments, that Harriet the cafe manageress provided, which is a new service that is now available for those holding events at the community centre and in the park.
After lunch the coaches were put through a gruelling 2 hour physical programme of  refresher training by Q Shillingford MBE England Boxing Coach Educator and UK Coaching Ambassador.    Q also led the national minute's silence held at 1500hrs at the start of The Duke of Edinburgh's Funeral which took place on Saturday 17th April in St George's Chapel, Windsor.
The Boxing Academy returned on Wednesday 21st April for all youngsters aged between 5 years and 17 years.
1600hrs till 1645hrs Senior boys and girls for those aged 14+ or those who have gained the GB National Bronze Boxing Award.
1730hrs till 1745hrs  Boys and girls under 12 years of age
1800hrs till 1845hrs Boys and girls under 12 years of age.
Due to the Covid restrictions the adult women's session couldn't be re-commenced until late May 2021.
See the 'Heart of Hayling' face book page
To become a young boxer and for any questions or queries please contact the academy administrator Wendy Coates on 02392 – 464391 wendylcoates@btinternet.com  or heartofhayling@gmail.com