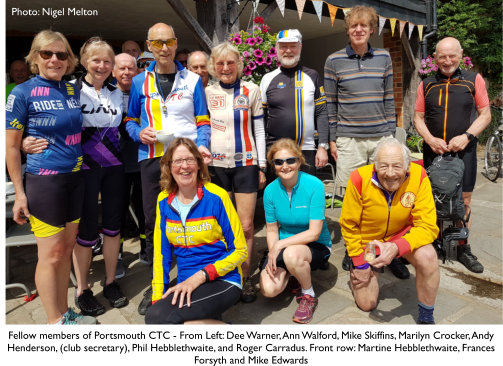 Birthdays come and go, but for Mike Skiffins his eightieth birthday was doubly special.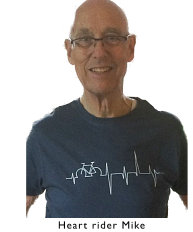 He had been strongly advised not to ride a bike for 12 weeks following heart surgery in February so when the week thirteen coincided with the exact date of his birthday and an 'Easy' ride by his club, Portsmouth CTC, it was a chance to see if he had still 'got his legs' and was able to manage a ride from Havant to Bosham for coffee with his friends.
CTC have been running monthly easy rides to allow newcomers to the hobby to experience and enjoy cycling the country lanes around here in a relaxed manner and to discover what it is like to ride in a small group without pressure. They always have experienced cyclists to support any newcomers or those, like Mike, who may be recovering from accident or illness, or who may experience a mechanical breakdown or puncture on the way.
Mike had been leading a weekly version of this until just before Christmas when he had his heart attack and had to stop whilst the NHS swung into action to sort him out.
Although the surgery was only in February this year, by May 22nd he felt pretty sure he could manage Bosham and back.
There were about twenty riders all together but they were split into two groups to reduce any crowding on the road and the slower group, with Mike included, took the quiet back roads for a more pleasant experience.
At Bosham where they all stopped, the first group had already arrived and were ordering their refreshment as the slower group arrived and eventually everyone had been served and were sitting in the sunshine chatting when Mike revealed that it was his 80th birthday. 'You kept that quiet'; someone exclaimed and decided that it was worth a photograph.
After the coffee break everyone rode back to Havant having covered 23 miles.
Mike was delighted to find that he had achieved this goal and was not exhausted by the effort so soon after major surgery and resolved to challenge himself to a sponsored bike ride to benefit the British Heart Foundation. The club embraced this ride in its programmed ride on Saturday 20th July.
A 32 mile ride up Portsdown Hill and round the harbours along our coast, crossing the Gosport Ferry, and returning along Southsea front past the D Day memorial before turning inland to Havant.
A tribute to the NHS, his surgeons in particular, and above all to the BHF whose research has helped them all to make sure this Octogenarian can still ride his bike.