Particular congratulations to Torin Sear who won in the Senior section with his photograph of "Red Berries", and to Alice Attard who won in the Intermediate section with her photograph of a "Curious Ferret".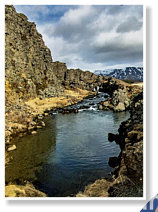 The judges commented that Torin's winning photograph exhibited "good technique, was an attractive composition, and had perfect depth of field". Comments about Alice's photograph included *exposure well handled and the subject was well framed with perfect detail". Runners up in the competition were Emma Mack with her photograph of an "Icelandic landscape" (right) and Matthew Relton-Hunt with his photograph of "Pink flowers with shadow". Isabelle Hall for her photograph of "Portsmouth through porthole" and Tegan Gibs for his of "White flowers", were both highly commended by the judges.
This was the first time that the Havant Rotary Club has invited young people to compete in the annual National Rotary Young Photographer Competition. The topic this year was the "Beauty of Nature", and in total 41 photographs were submitted from two age groups, 11 to 13 years (intermediate) and 14 to 17 years(senior). Photographs from the two winners were forwarded to compete in the District level of the National Competition and we are delighted Torin Sear, has won the Senior age range in District 1110 Young Photographer Competition this year and his entry will now be forwarded to RIBI (Rotary International In Great Britain & Ireland) for automatic entry into the national level of the competition.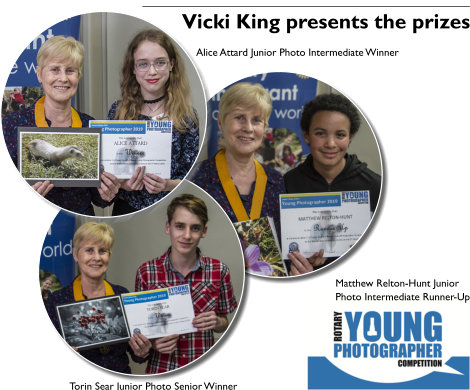 The local competition was advertised and prizes funded by Postcode Publications. Accordingly, competitors came from a wide range of local areas, including Hayling College and Park Community School who submitted a number of their students work.
The judges Richard Veitch and Paul Stone from the Horndean Camera Club also submitted photographs from their junior section.
Judging took place in Bedhampton Community Centre on 5th March and the prizegiving on 27th March. Cash prizes of £50 were awarded to the winners and £25 to the runners up, both will also have a consultation with a professional photographer from RobPaul Studios in Havant. All competitors received Certificates as all impressed the judges. Comments overall from the judges were that there was "a very high standard of print quality with some very good handling of exposure and choice of subject".
Some comments from the young people attending the prize giving;
Torin said that he was "very pleased to have won his first local competition and looks forward to entering many more".
Alice said that she was "very pleased at winning and would recommend that other young people become involved in photography
Matthew said that he was " very proud to have done so well and this has inspired him in his studies for his GCSE"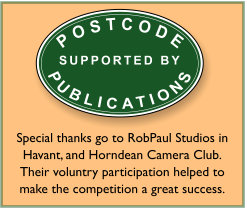 By
Dr Vicki King, Chair of the Youth Committee, Havant Rotary Club