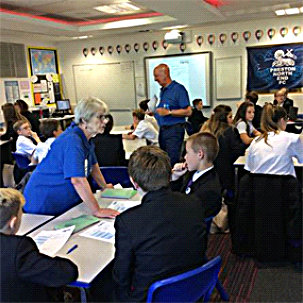 Havant Academy held their Money Week earlier this term with the help of the Work Out Your Money Team from Citizens Advice Havant. Organised by Nancy Waites, Maths Teacher and Coordinator, this was a planned programme of financial education to help their students gain the knowledge, skills and attitudes they need to manage their money.
Pupils at Havant Academy often like to quiz their teachers by asking, "When will we need this in life?" Well, not a single student asked this during Money Week. Money Week allows students in all year groups to take part in various activities and sessions, focusing on using money responsibly. Year 10 learnt about taxation and how to read a pay slip. Some got very jealous when they looked at the wages of Premier League footballers, but less jealous when they saw how much they paid in tax! Years 9 and 8 learnt about borrowing money responsibly. This included how different levels of interest are charged and what things you should never borrow money to pay for and who you should never borrow money from. Finally, Year 7 looked at savings and how they could earn large sums of cash by holding onto their pocket money or by getting a paper round in the future.
A Year 7 who saves £2 a week in the bank as soon as they start Havant Academy will have over £500 when they leave in Year 11. "That would make a very nice contribution to Year 11 prom… or a lovely gift for your Maths teacher" says Mr Gorman, Curriculum Leader for Maths at Havant Academy. He also offered a big thank you to the Work Out Your Money team, Citizens Advice Havant, for their fantastic workshops and activities. "Money is a very important part of the new GCSE curriculum and is questioned more than ever before. Also, using and understanding money is a vital life skill for students later in life. The Work Out Your Money team played a very important role in our recent Money Week and allowed students to investigate money matters from a practical point of view." Megan Lewis, a Year 7 student says, "I enjoyed the work we did with Citizens Advice, they were really friendly and helped me realise how much I could save. Which I can now put into my new piggy bank that they gave me."
Citizens Advice Havant and the Work Out Your Money team are based at Leigh Park Community Centre. Last year the service helped over 4,000 people with a diverse range of queries the majority being finance related.
Since September 2014, financial capability has been a compulsory part of the National Curriculum for secondary schools and the Work Out Your Money team have worked closely with many local schools to implement this. Work Out Your Money run fun group sessions both in the community and schools on a variety of topics. You may belong to a community group or school that would benefit from one of the Work Out Your Money chats. If so, please do get in touch on 023 9247 6013 or send an email to info@workoutyourmoney.com. The Work Out Your Money team look forward to hearing from you.