Who and what is Wheels for All?
Wheels for All, is a nationally recognised organisation for all children and adults who are physically and or mentally handicapped to engage in cycling activities. By using specially adapted cycles, from four wheelers to trikes, two seaters, and specially designed trikes that can accommodate a wheel chair the participants can enjoy the freedom of cycling under their own involvement.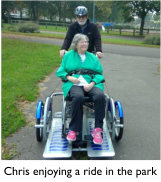 There are over 80 centres across Britain, equipped with specially adapted cycles and Wheels for All trained leaders, who have the knowledge to work with adapted cycles for the participants to enjoy the benefits of cycling. The centres welcome individual groups from families as well as individuals on a one to one basis.
It has been a recognised fact that from the able-bodied to those with all types of mental or physical handicaps people love the freedom of riding a bicycle. However, this can only happen with volunteers to make sure the bikes are ready to ride, or to provide pedal power to assist the users.
Locally, Wheels for All is located at Bransbury Park and at the Mountbatten Centre in Portsmouth.
Both locations are supported by a number of volunteers who are in attendance on Tuesdays, Wednesdays, Thursdays and Saturdays. "Everyone loves to ride a bike"
However, over the past few years a number of local authorities have reduced their support for Wheels for All - and have sought other organisations to support the day-to-day running of the activities.
Lastly, after reading this article please, remember Wheels for All, can only continue with volunteers who are prepared to give up a few hours a week.