Hewitt Matthews - Carl and Reece invite your questions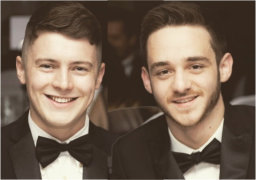 Dear Carl and Reece
I'd like to sell my products on social media during 2023, but I'm not sure how to do it. Do you have any tips?
W.
There are a number of points you'll need to consider before you start to sell your products online. Are you marketing to the public or other businesses? Different audiences use social media in different ways. If you were selling to businesses you would want to consider Linkedin as this is a site aimed at the corporate world. Facebook is the most popular social media platform with the public, so we'd certainly advise you to start building a presence there.
Next, it's important to have a strategy in place to guide you. Create specific objectives that tie back to your business goals. For example if you find 1 in 10 new followers making a purchase, set a goal to increase your Facebook followers by 10% over the next six months. The same goes for your website, if you're seeing 1 in 20 users buying from your site, say to yourself, 'I will increase the volume of visitors clicking on my website by 25% over the next three months by posting content on Facebook.'
Upload bright, interesting photos that showcase the quality of your wares (Instagram is especially useful for showcasing products as it is an image-orientated platform). Create short, attention-grabbing video clips of your products as these are popular and attract lots of attention. 'Behind the Scenes' style videos are always a good idea! This strategy will encourage your followers to read your posts, like and share them. Even better, you'll encourage them to click through to your website and buy your products.
If you've got a budget consider using Facebook Ads, as you'll be able to supercharge your progress by immediately targeting the specific audiences you're looking for with ads. Good luck!
Reece Matthews and Carl Hewitt are the joint Co-Founders of Hewitt Matthews, an award-winning digital marketing agency based at Lakeside, North Harbour.
Email your questions to: carl@hewittmatthews.co.uk