Hewitt Matthews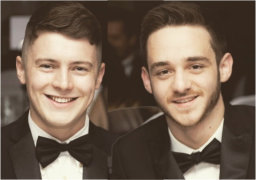 Carl and Reece invite your questions
Send your questions to: hello@digitaldinos.co.uk
Dear Reece and Carl
Recently I've set up a business account on Facebook, but I'm worried about it being hacked. How can I best protect this
Regards Sam
Social media is a great place to do business! 68% of consumers purchased at least one item through their favourite online platform during 2021. Analysts predict this figure will increase significantly during 2022. While this is great news for businesses large and small, owners must put in place safeguards to protect their companies. Managing a business account on Facebook is different to having a personal page, as you won't know the majority of your followers. They're not family and friends sharing snaps of their nights out. These individuals will include competitors and potential hackers. Here are our tips to minimise any risks.
Review your account's settings to ensure that you're only revealing the information you want people to see. A recent survey found that 67 percent of respondents were concerned about social networking privacy issues, yet only 31 percent of those asked updated their privacy settings within the last 90 days.
Create a social media policy: Employees need to know the do's and don'ts of managing social media. This will ensure that your company's assets and reputation are protected. Key to this is adopting a strong password policy. Choose complex combinations and create a unique password for each account.
Provide training for your employees: Social media is constantly evolving, so whoever is managing your online accounts must be up to date on the latest developments to stay ahead of the game.
Use two-factor authentication: Implement two-factor authentication on your account as even if a hacker has your password, they will need your phone or security key to get into it.
Use an excellent antivirus software. Invest in a full-spectrum product that covers security patches; real-time, dynamic web defense; and, provides a strong firewall.
Scan and decode links to make sure they're the real thing. Options include BrightCloud and TrueURL.net.