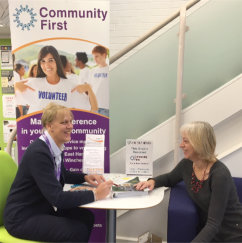 Have you ever thought about volunteering – but don't know where to start, and who might best use your time and skills? The easy bit is deciding 'to do something', but working out what might take a little longer.
Community First can help you as Julie Eden, Volunteer Service Co-ordinator, explains: "From October we are starting up a new service in Havant where people can drop in and chat to us about volunteering. We will be in Havant Library between 10.00 and 12.00 every second Tuesday of the month - November 13th, December 17th.
We will also be in Waterlooville Library every second Thursday of the month - November 8th, December 13th.
Please come and see us as there is a lot on offer; we promote seventy organisations in the local area and a hundred and eight different opportunities to volunteer.
"We also have our own dedicated volunteer website www.volunteerwessex.org where you can search for opportunities. You can specify what sort of organisation you are interested in e.g. one that is concerned with wildlife or young people, and/or what sort of volunteering you would like to do such as providing advice or helping with conservation." For further information please contact Julie Eden, julie.eden@cfirst.org.uk or tel. 01730 777514.