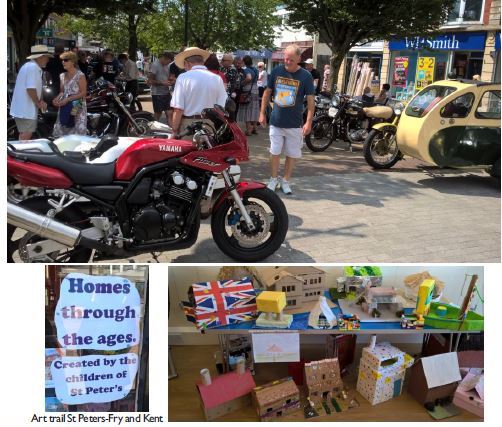 Waterlooville Town centre celebrated summer with the Art trail, Classic Cars, Car Boot Sale, cinema and of course the bandstand!!
This year fifteen businesses displayed art from thirteen local schools. Amazing to see such talented youngsters. Maps showing the trail around the town were available in the participating shops and Community Centre.
Classic cars in Waterlooville Town Centre has been an annual event until last year when it did not happen as Havant Council could no longer support it. Then Councillor Mike Sceal, a member of the Events team and an avid classic car man, offered to resurrect it. He did a fabulous job and the precinct was full of fabulous cars and classic motorbikes.
Photos right show some of the classic motorbikes on show, and examples of displays from Purbrook Junior School and Fry and Kent.
To support the Classic cars the bandstand provided some 'classic' music. 'Now that's Jive' showed people how to dance https://www.nowthatsjive.net/ and The Dolomites https://www.facebook.com/thedolomitesband provided some amazing music. A big thank you to both who provided their music for free!! It really set the scene for the day.