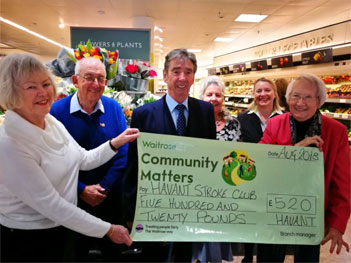 Waitrose in Havant are great supporters of community groups and events, and Havant Stroke Club was lucky enough to receive £520 from their green token community fund.
The club are based at Bedhampton Community Centre and meet every week on a Monday between 10am and 12pm. They currently have space for new members, and do a variety of activities, from guest speakers to quizzes to sing-a-longs, and even have a gentle exercise session for those who would like it. There's always a welcoming face, hot drink and biscuit, and a chat for those who want it.
The Club have kept the costs low at £2 per session to ensure that it is accessible for everybody, but this means they don't always have the funds to treat their members. That's why the Waitrose donation has come at just the right time, as they are now using the money to take their members out for a Christmas three course meal, with panto entertainment afterwards.
If you are interested in coming along to the Club - or know somebody who might be, please contact Bedhampton Community Centre on 023 9248 0654 or email office@bedhamptoncommunity.org