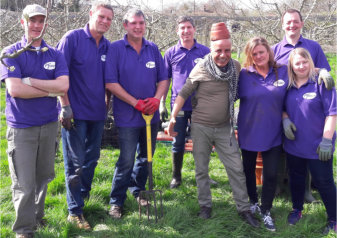 We are all becoming aware of the need to live sustainably; Tuppenny Barn, a charity based in Southbourne, wholeheartedly embraces the concept by cultivating and harvesting organic produce, using this to create learning experiences for all ages and to promote the benefits of growing, cooking and eating healthy food.
From hosting school trips and after-school clubs, to workshops and holiday activities, the fantastic education centre and allotment teaches children where fruit and vegetables come from, the benefits of eating nutritional food and aims to give them the skills to grow and prepare their own meals.
This was a fantastic opportunity for volunteers from Pfizer. a large pharmaceutical company based in Havant, to spend the morning helping Tuppenny Barn clear a portion of land to create a wild flower meadow next to a row of bee hives. Pfizer take part in a rolling program of volunteering facilitated by Community First and have helped many charities and organisations over the past few years. The Pfizer team worked hard clearing and digging the land next to the orchard ready for flowers to be planted.
Maggie Haynes from Tuppenny Barn was delighted to have the volunteers for the day saying "Huge thanks to the hardworking team from Pfizer. What they have achieved today would have taken us, as a charity, several weeks. We can now look forward to planting up our subsequent wild flowers which will benefit our bees and our visiting school children."
Karl from Pfizer enjoyed the day; he said, "It feels good and very satisfying to give our time up for such a good cause in our local community. It is good to know there are charities so close to home delivering first class support and education to a wide cross section of the public. I wish Tuppenny Barn all the best for the future, it's such an inspiring place and I would be happy to return."
Without the support of local businesses, many charity and community groups would struggle. For more information about how you can get involved with the Employee Volunteering Scheme, contact Rachel Taylor at rachel.taylor@cfirst.org.uk or telephone 01730 774057