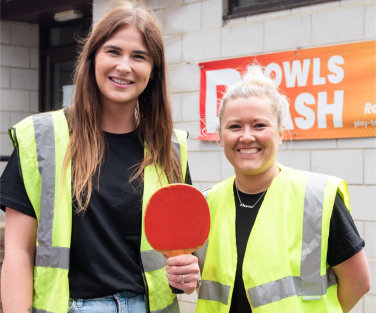 In August, three Barratt Homes workers donned high-vis jackets and helped to marshal the car parking at the centre's special fundraising afternoon.
Set in the heart of the Island, the Hayling Island Community Centre (HICCA) is a hub for local people and has several groups and classes on offer for the community, along with space available to hire for parties and weddings.
The centre's Summer Family Fun Day was one of many events the centre organises for Island residents and was jam-packed full of fun and refreshments for children and adults alike.
Volunteers from Barratt Homes offered their time to direct visitors on the day, and Centre Manager, Iona Harkness, said: "Fundraising afternoons like this one, that also provide entertainment for the community, are very important.
"This year's event was really successful, and we couldn't do it without our team of volunteers. Thanks go to the Barratt employees who gave up their time for us today – we really appreciate it."
Megan Hamlyn, Barratt Homes Marketing Manager, was one of the volunteering car parking marshals. She said: "We want to support organisations in the communities where we are building new homes, and HICCA is providing a great central hub for activities and events on Hayling Island. It has been a real pleasure to offer our help."