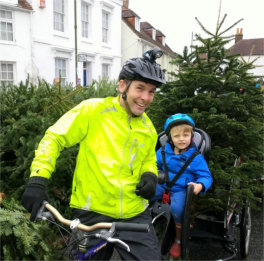 Westbourne villagers brought a record 315 Christmas trees to their annual tree recycling event on Sunday 5 January.
At the free event, held by local environmental group Greening Westbourne, trees are turned into chippings which are then used as mulch and compost.
Last year's event, itself a record, saw 203 trees recycled.
John Millard, a spokesperson for the group, said: "It was amazing to have so many people support what has become an annual village occasion. With mulled wine and nibbles, it's a great way to end the festive season. It was brilliant to see so many people carrying or dragging their trees down to the village square, avoiding car use and making the event even greener.
"Big thanks to our chipping team, Wade Fazackarley and Alfie Reed of Michael Reed and Co tree services, who worked for free."
The chippings will be used as mulch and compost at Hampshire Farm Meadows nearby, where Greening Westbourne have created a community orchard.
The group works to preserve local wildlife, campaign on climate change and encourage sustainable living.