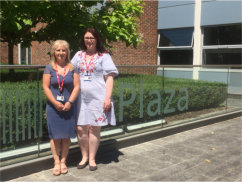 The Victim Care service has moved into Havant Borough Council's Public Service Plaza, to provide victims of crime with more choice about how they can access support.
The move has enabled its team to work closely with public service partners that are already located within the Plaza such as Citizen's Advice, the Havant Safer Neighbourhood Team, and Hampshire County Council.
This service joins other partner agencies already working together within Havant's Public Service Plaza. We are now able to offer our residents a one-stop shop to gain the help and advice they require."
Police and Crime Commissioner, Michael Lane, added: "Having a dedicated service provided by trained specialists where any victim of any crime can go for help and support is important. The new base at Havant Plaza helps to make the service more accessible and improves those vital links between the agencies that need to work together to ensure comprehensive support can be given to those affected by crime."
To contact the Victim Care service please call 0808 178 1641, Monday to Saturday from 8am to 8pm or visit https://bit.ly/2IymlUuto live chat with a member of the team. Anyone in need of support outside of these hours should call 0808 168 9111.