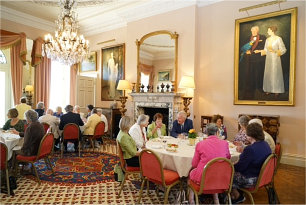 It was a golden sunshine day on the 17th of May as members of The Arts Society Portsdown assembled for a True Gold celebration lunch at historic Stansted House to mark 50 years of NADFAS (National Association of Decorative Arts) now known as The Arts Society.
Current Chair, Diana Gough, welcomed the assembled guests and introduced Sue Mullane, Heritage Representative from the Isle of Wight and Hampshire Area.
Sue congratulated the Society on having two teams of Heritage Volunteers, one working at Stansted House and the other in the Royal Naval Library in Portsmouth Dockyard, as well as a dedicated team of Church Recorders at St Faith's Church, Havant. These three teams have, between them, given several thousand hours of their time over the thirty-four years since the Society was founded. In recognition of their contribution, each team leader was presented with a True Gold certificate.
A birthday toast was proposed by Janet Williams, President of The Arts Society Portsdown, to 50 Golden Years of NADFAS.
After a suitable chinking of glasses, those present enjoyed an excellent buffet lunch including a slice of delicious Celebration Cake.
Members were also able to enjoy a tour of Stansted House, both above and below stairs and were delighted with the fascinating stories of the people associated with the House as well as the beautiful rooms which invoked times gone by. An added attraction was an exquisite model of the railway station at Rowlands Castle which had been a collection point for Canadian troops headed for the D Day landings in 1943. Another special item of interest to the Society's members was the page in a commemorative book which recorded the gift from the Society of an English oak tree to the House to mark the Millennium.
The buzz of animated conversation between the visitors and the House's welcoming and knowledgeable room guides was an indication of the enjoyment and interest shown.
At 3pm, as all the guests departed and the hubbub died away, one could truly say that the True Gold celebration had been a great success.