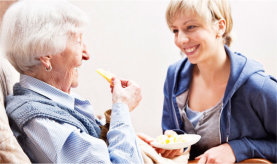 Will there ever be a time when we don't hear about the state of social care in our country? How the elderly and vulnerable are being treated without respect and dignity, and even worse abused?
It's terrifying to think that in 2018 we are still having these issues and that it seems to be getting worse with no answers, as to help the aging population that we live in.
I've worked for over 25years in the health and social care sector in various settings, and have witness the changes and challenges it presents.
In January 2011, I decided that I would like to make a difference. I knew that it wouldn't fix the problem however I hoped (and thankfully I do) help some people to have the care and help at home that they need.
When talking to my customers and community groups about what they would like their homecare to be like, there were always the same responses:
Wanting to know the person who was coming
NOT having different people all the time
What time they were coming
Actually doing what they wanted and needed on that day and not just working from care/ support plans
Being able to talk to someone who would actually do something if there was a problem
Not to feel rushed
To be cared for in their own homes and for it to be affordable
To be treated like a human being!
WOW! Not rocket science, not ground breaking, just perfectly doable simple things that make a huge difference!
My customers get all of these things and more. We support them with all the household tasks, personal care, socialising, gardening, and friendship, whatever they need to live happily, independently and safely in their own homes. The support is ever evolving to meet their needs.
I love what I do and I am passionate about care and support. Caring for people in a way that gives them a excellent quality of life, is so rewarding.
If this has resonated with anyone then I would love to chat with you - Sonya North: 077757 57855 / 023 9245 0129