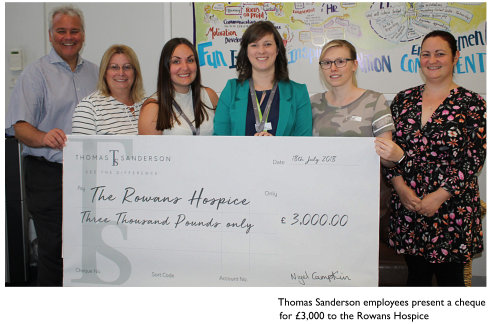 Thomas Sanderson - the UK's leading manufacturer of premium window blinds and shutters – has donated £3,000 to the Rowans Hospice, a charity that supports people living with life-limiting illnesses, their families and carers in Portsmouth and South East Hampshire.
 The donation will be used to support the charity's Silver Jubilee Appeal, which will raise money to refurbish and extend the Rowans Hospice.
Thomas Sanderson Charity Team Leader Angela Mills said, "Our employees are passionate about fund-raising and charitable giving. Rowan's Hospice is a great cause. Lots of our employees have had family or friends that have been supported by the Rowans Hospice, so it's nice to give something back."
Employees in Thomas Sanderson's Waterlooville-based Head Office raised the money by taking part in dress-down days, Grand National and World Cup sweepstakes and quiz nights. The company also runs a tuck shop with all profits going to charity.
Thomas Sanderson also donated £1,000 to Myton Hospice - a Coventry-based charity that specialises in compassionate end-of-life care.
Myton Fund-raising Coordinator Abigail Smith visited Thomas Sanderson to collect the cheque. She said, "We're always overwhelmed with the support of companies such as Thomas Sanderson and the generosity of your staff. The money will genuinely make a difference to the people we care for and their families."