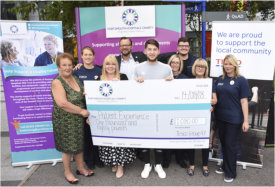 Two hundred players from thirty Tesco stores across the South Coast have taken part in an all-day football event to raise money for Portsmouth Hospitals Charity's Patient Experience Charitable Fund.
Portsmouth Hospitals Charity, based at Queen Alexandra Hospital raise money for all Wards and Departments within Portsmouth Hospitals NHS Trust.
The Patient Experience Charitable Fund provides equipment to support people with learning disabilities who need hospital care, it provides a Carer's Café, which is a quiet place for carers of people who have been admitted to have a cup of coffee, a chat, and have access to information they need to help them look after their loved one. The Fund also provides a programme that encourages people who may have difficulties communicating, and volunteering opportunities for people with autism, mental ill health, physical and learning disabilities.
The football event raised an amazing £1,080.00, which will be put towards a portable sensory machine, which can transform a patient's room into a sensory experience. It is always a pleasure to raise money for charitable causes."
Sarah Balchin, Head of Patient Experience said, "We are delighted to receive a cheque from the Tesco Community Champions for £1,080. The funds will go towards the purchase of some equipment to support people with a learning disability in the hospital, helping to make their experience a little less daunting."
Rich Products, based in Fareham supported the event by paying for the trophies, and have also donated a further £300 towards the cause.