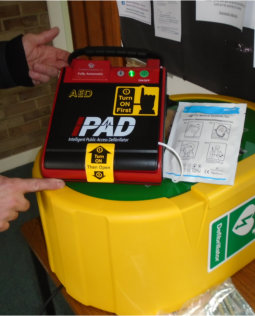 Thanks to the generosity of the general public and sponsorship from commercial and retail companies, Hayling Community First Responders (CFR) have now purchased and installed 10 public access defibrillators in security box across the Island with 3 more to be installed over the coming months.
These are located at:
Premier store on Creek Road
St Andrew's church, Southwood Road
Lifeboat Inn
Surf Shack Café
Ferry Boat Inn
West Town Inn
* St Mary's Church Hall
Hayling Hardware
Side of Sainsbury's
Northney Recreation Hall
Additional PADs are also installed at The Community Centre and Hayling College.
To find them all just go onto the South Central Ambulance Service "999 Save a Life" App. this will bring up a map of the Island which will show the locations of all the defibrillators logged with SCAS as well as the nearest one to your actual location.
https://www.scas.nhs.uk/news/campaigns/savealife/
The installation and ongoing maintenance is undertaken by the volunteer Island CFR group with all income from the donations being spent directly on the purchase of the units themselves.
The units are placed on a variety of public and private buildings where their bright yellow/green boxes housing the life saving apparatus inside make them highly visible.
Seen installing the latest unit is Hayling CFR co-ordinator Peter Halkyard and CFR Sara Hill
* Donated by Postcode Publications
By
Hayling Island Community First Responders