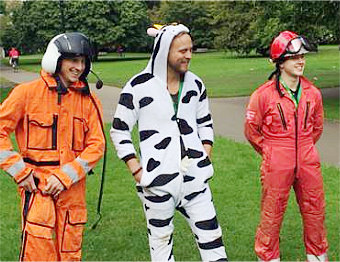 Hampshire and Isle of Wight Air Ambulance (HIOWAA) is seeking local businesses to put forward groups of employees for specially designed team building activities in a stress-free environment outside of the office.
The charity's Corporate Fund-raiser, Ray Southam, has designed some brilliant activities for teams to participate in. The activities are based around communication and team work and help to educate people about the work of the Critical Care Team.
'We've been trialling our team building programme with local companies and businesses around the county and so far, it has been really well received. It's great to see groups of colleagues working together and ultimately having fun. Team building is a fantastic way to build positive relationships among co-workers.' Ray Southam commented.
'Our team building exercises have proven to be very popular. We've seen groups of colleagues working through the tasks together successfully, and building their work relationships in the process. Through these exercises we hope to continue to spread the word about the work of the Air Ambulance.' Ray Southam continued.
HIOWAA is keen to hear from businesses and organisations who would be interested in participating in these activities, in return for a small donation.
Hampshire and Isle of Wight Air Ambulance flies seven days a week, up to nineteen hours a day, and attends an average of two to three missions a day, many of them life-saving. The charity receives no government, statutory or national lottery funding for routine operations, and is entirely dependent on gifts received from members of the public, companies and grant-making bodies to keep the Air Ambulance flying and saving lives.