Teachers across the region are being offered free online training support to prepare for a summer of outdoor learning to help connect young people with nature.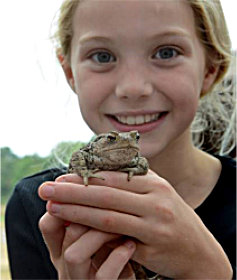 Working in partnership with the South Downs Education Network, the National Park Authority is offering twenty online CPD (Continuing Professional Development) training sessions, covering ideas and activities to take pupils outside this summer (subject to current COVID restrictions being eased in the summer). Thirteen organisations in the network have joined forces to help deliver the training.
The fun and informative webinars this spring are a continuation of nine online training sessions which ran during autumn term of 2020. Teachers can book the sessions to join them live or catch up later with the online recordings.

Jonathan Dean (pictured left), Education Officer for the South Downs National Park Authority, explained: "With all pupils forecast to be back in school this summer, we want to help teachers feel confident stepping outside the classroom.
"Building a connection with nature can help all of us cope with the stresses and strains of the past twelve months. There is a wealth of evidence that outdoor learning improves attainment for pupils and benefits the health and well-being of pupils and staff.
"Teachers can choose from the twenty sessions and benefit from the flexibility of being able to catch up online if they can't join the session live. Some sessions will uncover how to make the best use of schools grounds and nearby green spaces to teach curriculum subjects and topics.
"Other sessions will focus on how to use woodland effectively, build fieldwork skills and make improvements to school grounds. Several sessions share ways to use outdoor spaces for health and well-being, which is especially important in supporting pupils through these challenging times."
The autumn online training sessions were a big success, with more than 200 teachers taking part and lots of positive feedback. One participant said: "It was really useful and I've got lots of lovely ideas to take back to school. I can't wait to get started!"
Jonathan added: "We want to encourage as many teachers as possible to get outside with their pupils this summer term and we hope that this ongoing training will help them feel confident and ready to do exactly that.
"While our sessions draw inspiration from the landscapes and stories of the South Downs, teachers from across the country will be able to benefit from the knowledge being shared by the network of education providers." Teachers can find out more and sign up by visiting: www.southdowns.gov.uk/onlineteachertraining