Even though holidays are not currently on the agenda, that doesn't mean we can't look forward to the future, or pretend the garden's a beach… So, with that in mind, I've put together a brief guide detailing the very best swimwear styles for your body shape.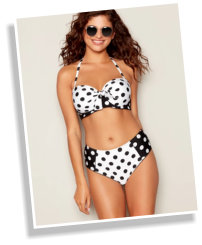 Hourglass
First of all, if you have an hourglass figure, then lucky you. This means that you really are in proportion and your shoulders are balanced with your hips and your waist is quite narrow, think 1950s siren. In regard to swimwear, you have quite a few options that will work for you.
Halter neck swimsuit - this style will really enhance your figure, while supporting your bust at the same time. With a halter neck, you can adjust the tie to tighten or loosen if need be, which is great for added comfort. Opt for a plunging halter neck costume as this will make your boobies look great!
Where do I get one from?
Depending on your bust size, Marks & Spencer's have an array of different swimsuits, and they last for ages! Don't be put off by the brand's older demographic, they have definitely upped their game in recent years, and they have many nice and on-trend designs. Bravissimo are also amazing! They have different styles and sizes for all kinds of shapes and sizes - totally recommend, plus love their whole ethos. Other brands that have good swimwear in this style are: Topshop, River Island, John Lewis and Figleaves (online)
Pear Shape
Now, if you're a pear shape, finding the right swimwear is no easy feat. As you are narrower up top and bigger at the bottom, you want to create some kind of balance. For this, I would actually opt for a two-piece. Go for high rise bottoms that tie-up at the side, as these will elongate your legs and can be adjusted at the side and will very rarely dig in at the sides. For the top, I would actually avoid a halter neck bikini top and opt for a square neck, strappy top. This will make your shoulders appear more in line with your bottom half due to the straight/square shape.
If you would prefer an all-in-one suit, then go for one with a similar neckline and strap.
Where do I get one from?
Next do great one-pieces which come with belts to help you create more of a waist. Again, Marks & Spencer has a good range. I would also take a look at smaller brands, one of the suits below is from a brand called Eloquii. you can also try Triumph, who also do really good underwear too.
Boyish
Last but not least, boyish. If you have a straight up and down figure, finding flattering and feminine swimwear can be quite difficult. What you want to do it create some shape and create an illusion with the right dimensions. Go all out with frills, colour, and print! Why not! I would also say the boyish figure looks great in a classic triangle shape bikini. You can also go for high waisted bottoms or frill trimmed bottoms.
If you prefer a one piece than follow a similar method, I'd even look to one-shoulder designs and styles with subtle cut outs on the side.
Where do I get one from?
For slimmer figures, the options are endless. For a higher budget look at brands like Melissa Odabash, if you want something a little cheaper, check out the swimwear section at John Lewis or browse Figleaves.