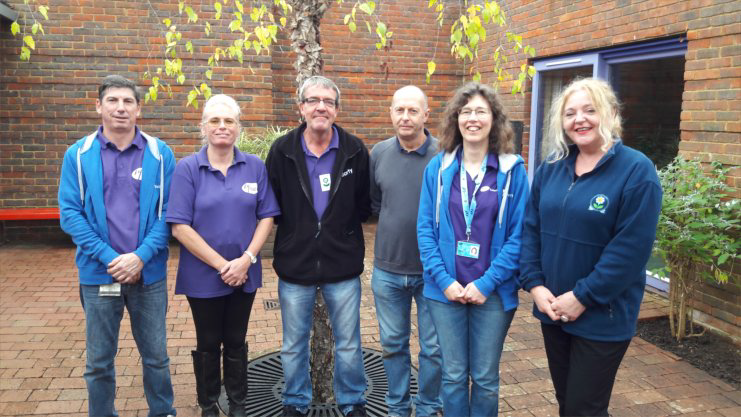 Before we put our gardens to bed for the winter we need to cut back bushes and trees and clear out overgrown flowerbeds so that they are ready to thrive for the next growing season.
This was the task for a willing group of volunteers from Pfizer a large pharmaceutical company based in Havant. They answered the call from Park Families' Warren Park Nursery based at the Surestart Centre in Warren Park, Havant.
Park Families are a charity providing facilities for recreation and leisure activities in the interests of social welfare, with the aim of improving health, social, and emotional wellbeing.
The Surestart Centre is a great community space providing many different activities, as well as a thriving nursery open 51 weeks of the year 8am- 6pm. They also have a great community café open from 9am-2pm in term time. Their training team provide opportunities to gain qualifications in childcare, first aid, health and safety to name a few.
There are many small garden areas at the Surestart Centre that needed a bit of a clear up. Trees and bushes had become overgrown and some of the nursery gardens had become unrecognisable with weeds taking over.
The Pfizer volunteers worked hard to clear the areas making the gardens a more attractive and usable space for the Centre to enjoy. Pfizer have had a fantastic year so far volunteering to help many charities and organisations around the Havant area facilitated by Community First. Martin from Pfizer said, "We always appreciate the opportunity to help, it gives us a great feeling of satisfaction when you can see the difference you are making to our local community"
Park Families were extremely grateful for the support from the volunteers and the garden areas were completely transformed. Alison Henry, Manager at Park Families said "This support is really appreciated. I would like to thank Pfizer on behalf of all the children and families that can now use the garden."
Without the support of local businesses, many charities and community groups would struggle. For more information about how you can get involved with the Employee Volunteering Scheme contact Rachel Taylor at rachel.taylor@cfirst.org.uk or telephone 0300 500 8085 ext 9724.